Congratulations to Vinakoper with their Capris Refošk which received a Trophy at The World's Finest Glass of Bubbly awards 2017.
A panel of 36 top industry wine judges tasted all the entries for 2017 and were able to not only scores wines with medals, but also place them in to easy to understand categories such as Fruity & Floral: "A wine that is likely to show fruity flavours such as apples and red berry fruits and mixed with aromas of varied common flower petals such as rose and acacia."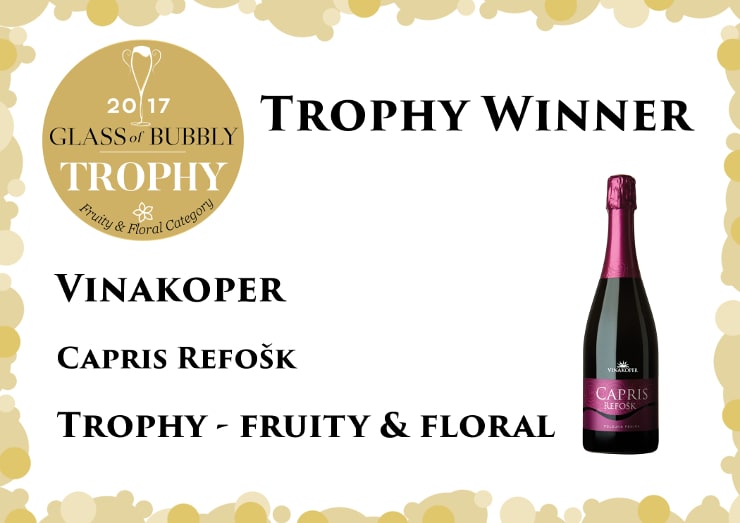 Colour: 
Deep ruby, with intense sparkle and plenty of bubbles rising in fine beads.
Aroma: 
The Refosco variety adds aromas of ripe dark berries and sour cherry.
Taste: 
Structured, rich and delicate at the same time. The elegant freshness of lively bubbles is complemented by luscious fruitiness and smoothness. The finish reveals a ripe fruity note of dark berries and sweet tannins.
"As a whole, Slovenian wines did very well at our awards this year and this sparkling red wine from Vinakoper was a surprising winner of the Fruity & Floral Trophy in front of many other well known regions such as Prosecco who is worldwide loved for being just exactly that. This sparkling red is a real pleasure to taste, not too heavy yet a joyful tasting experience full of dark berry fruits." Christopher Walkey