Many of us love cocktails, especially when we are out with our friends and we are gazing through the drinks menu. It's the cheeky option by ordering a cocktail, the I dare you to try that one or I want to treat myself fuel to get the party going. They have names which we would consider very risque or in deed very tongue in cheek Carry On style in the cheekiness, such as 'sex on the beach', 'Time to Lick the Donkey' and 'Slippery Nipple'… And there are many worse than that!
As always we are focused on fizz so of course we want to explore the world of Champagne and sparkling wine cocktails, even if I may get many sneers from people questioning my respect of a wine to simply be mixed in with a cocktail, but let us face it, many fine liquors are also added to cocktails and those big brand labels are happy to have their name associated with these commonly chosen alcoholic mixed drinks.
A cocktail, of which I have tried many examples is quite literally a mixture of two or more beverages of which one would have to be alcoholic. Hundreds of variations exist and continue to be created, some simple and some complex, a wide selection of very traditional options and some rather complex and even bizarre enough to be questioned by Del Boy from Only Fools and Horse who was known to have some strange drink ordering concoctions.
Gins have been on an upward trend the last couple of years with the increase of craft gins hitting the market across the country and once again (hoping I am not sounding like that I am drinking alcohol constantly) I have tried many! Many would debate cucumber or lemon and maybe ice or neat, but what about cocktails and more specifically, the bubbly kind?
We took three labels and tested them with some Champagne and Prosecco:
Forest Gin: Tasting notes ~Firstly you will be amazed by the bottle which will further increase your desire to pour yourself a measure to taste. A smooth and pure taste with fair length to include slight hints of liquorice, floral and powdered coriander.
Rock Rose Gin: Tasting notes ~ Another bottle to wow you in looks. Peel away the sealed lid and pour yourself this fresh tasting and pure gin. Punchy, floral and fruity on the nose, smooth taste with earthy and slight oak hints during the long lasting mouth experience.
Masons Yorkshire Gin: Tasting notes~ Powerful on the nose sharing slight aniseed, liquorice and herbal notes of possibly saffron. Taste is really smooth, creamy is a great way to explain this and then you get all the complexity of this gin with lemon zest, floral, liquorice and even very slight coffee bean.
The Champagne used was Roger Constant-Lemaire (grower) and the prosecco was Aldi's Valdobbiadene Spumante Superiore DOCG.
Once the tasting of the gins was done neat in order to write tasting notes, the following cocktails were enjoyed:
French 75 with Champagne Roger Constant-Lemaire and Forest Gin. Ingredients of gin, lemon juice and maple syrup and shake ingredients. Strain in to glass, top up with the Champagne and then add the lemon zest, orange zest and small slice of strawberry.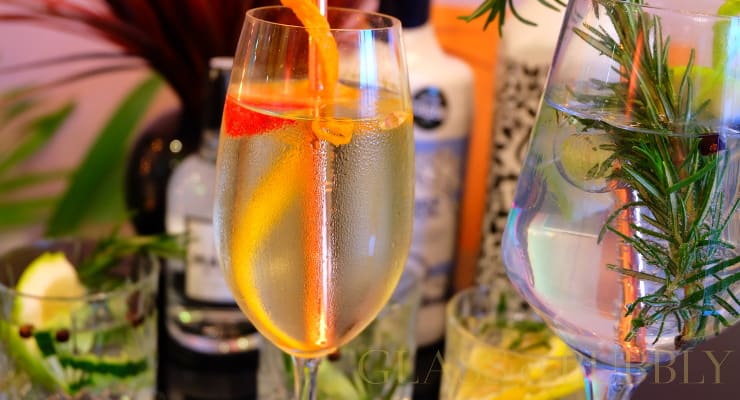 Rosemary Lavender with Champagne Roger Constant-Lemaire and Rock Rose Gin. Gently crush the stalk of lavender to release its perfume and add to glass. Add in the gin, tiny amount of lemon juice, lemon slice, juniper berries. Add small amount of soda water and then fill rest of glass with the Champagne.
Glass of Bubbly Cocktail with Prosecco Valdobbiadene and Masons Yorkshire Gin. Small splash of lime juice, cucumber slice, lime slice, pink grapefruit slice. Tiny drop or two of maple syrup. Pour in gin and fill with prosecco. Garnish with olive on cocktail stick, copper straw and couple of juniper berries.