#EnglishWineWeek certainly calls from some English Fizz too and this is what was on offer during a special 'wine pairing dinner' at Vintners' Hall, London. A three course dinner and reception supported by the sparkling wines of Furleigh Estate and Nyetimber with Searcys being the evening hosts to welcome a selection of press and valued Searcy members to the specially arranged evening.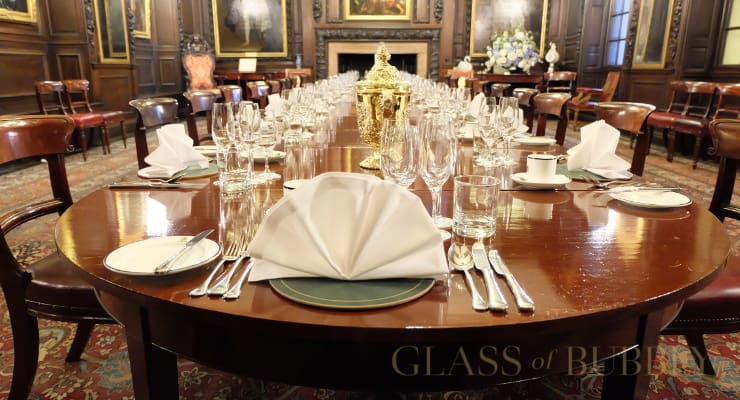 "Vintners' Hall is the home of the Worshipful Company of Vintners' and is the spiritual home of the wine trade. The 17th Century architecture and grandeur creates the perfect backdrop to any occasion. The hall is a magnificent venue right in the heart of the City of London. Arranged over 2 floors, the hall provides an exclusive venue for your event. Vintners' Hall is operated by Searcys, a catering company which was founded in 1847 by John Searcy. The partnership between Searcys and the Vintners' company means you will receive fantastic service as well as expert suggestions for both your food and wine."
We had a great tour of Vintners' Hall (with a glass of Furleigh Estate Blanc de Noirs 2014) with Major Steve Marcham MBE (General Manager) to include a peek down into the cellars where many visitors were amazed at the wonderful wines stored away for future events and dinners. Though I have visited Vintner's Hall many times, it was the first time I was part of such an educational and engaging tour around the property.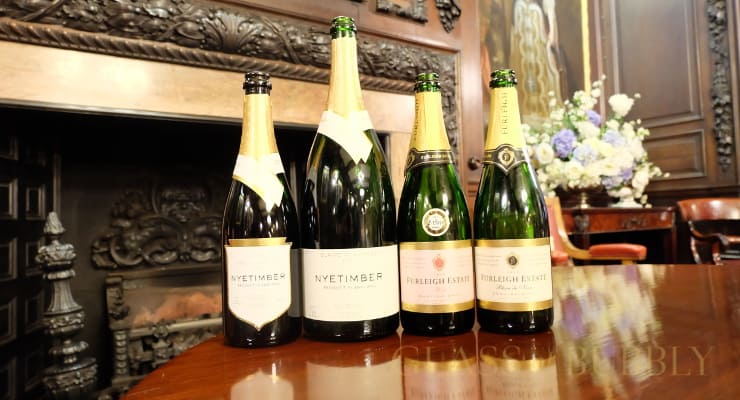 It was then on to the main part of the evening, the English Sparkling Wine with selected course to pair, the wines were:
Furleigh Estate Blanc de Noir 2014 – "Orchard, tangerine, citrus aromas – Highly refreshing. The taste is full bodied, crisp with lengthy yellow fruit and meaty flavours."
Nyetimber Blanc de Blancs 2003 (Magnum) – "Toasty, butter, hint of citrus in the nose – A most pleasing aroma that gets better and better the longer it is in the glass. Great complex and smoothness to flavours with caramel, pastry, cinnamon, yellow stone fruit flavours."
Nyetimber Tillington 2013 – "Fresh orchard fruit and pastry on the nose. A refreshing and young tasting apricot, red apples, pastry in flavours. Delicate and fine sparkling wine."
Furleigh Estate Rosé 2010 – "Soft and subtle red berry fruits / Ribena on the nose. Abundance of subtle red berry fruit flavours."
The evening menu with my notes for each wine pairing is as follows:
Seared Orkney Scallops paired with Nyetimber Blanc de Blancs 2003 (asparagus, quails egg and apple tuber salad with a rose butter sauce): "Brings out the citrus flavours of the wine and the creamy flavours of the scallops – A great pairing."
Seared Guinea Fowl paired with Nyetimber Tillington 2013 (Chervil root purée, broad beans and whipped truffle butter emulsion): "Balances the dishes flavours, the wine's flavours though are very subtle due to rich food flavours. For me, the better and excellent food flavours did not shine through and made the crisp and lively flavours of the Tillington not as memorable."
Vintner's Berry 'Mess' paired with Furleigh Estate Rosé 2010: "Here the wine and the food clashed as both are fairly similar in sharpness and crispness."