Congratulations to Zonin1821 with their Bracchetto which received a Gold medal at The World's Finest Glass of Bubbly awards 2017.
A panel of 36 top industry wine judges tasted all the entries for 2017 and were able to not only scores wines with medals, but also place them in to easy to understand categories such as Dessert: "Dessert wine with Stilton or lemon tart… Yum! A wine that may take ages to develop and likely not to be a simple wine, sweet experience yet complex in taste"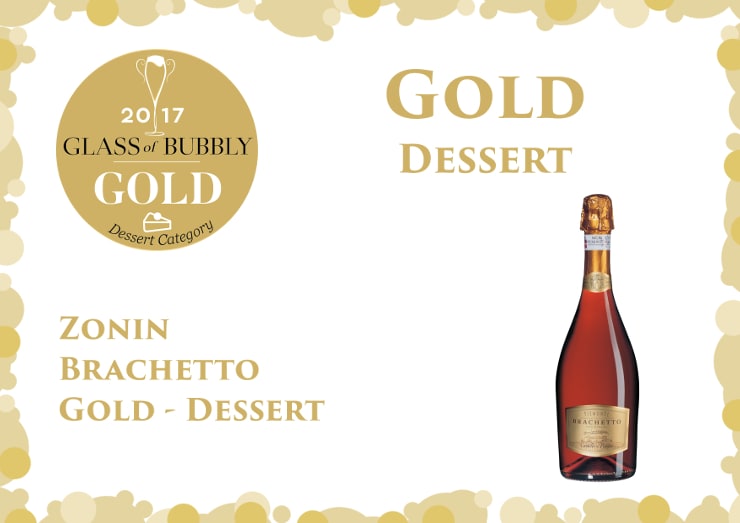 This desert wine is harmoniously sweet, fresh and delicately fruity. It has an abundant bouquet of roses and musky scents. It is pale ruby-red in colour, with a festive rosè-hinted mousse. The wine is delicious with all types of dessert, especially with fruit tarts and cakes. To make the wine, 100% Brachetto grapes are gently crushed followed by a clarification of the must by refrigeration and by temperature-controlled fermentation. When the must attains 3% – 4% alcohol, it is chilled in order to preserve the grape's primary aromas. This is followed by the Charmat process.
COLOUR
Pale ruby-red, with a festive rosè-colored mousse.
BOUQUET
Ample, with scents of roses and musk.
FLAVOUR
Harmoniously sweet; fresh and delicately fruity.
"I have enjoyed this sparkling wine from Zonin1821 out in Italy at a couple of their wineries – This is such a difficult wine to resist a second / third and beyond glass. One of my favourite sweeter sparkling wines with just the right balance of flavours, sweetness, freshness to pair well with any dessert from cheese to that Summer fruits baked pie." Christopher Walkey