"I like to compare my job to that of a chef as for when I am making my Champagne it is just like I am cooking with ingredients." David Levasseur.
When you first meet David Levasseur, the wine maker of Champagne A. Levasseur, you know you are standing in front of a man with a strong character with much energy and ideas to pour in to his making of Champagne, not the normal model of a typical wine maker. He struck me as a very creative and artistic man, in love for sure with his Champagne, but also wanting to tear the rule book up and emit something new in to Champagne, to take it in to a new space which is summed up by the 'Eveilleur des Sens' quote on his business card Awakener of Senses.
Champagne A. Levasseur is a small grower wine label based in Cuchery which is around 18km outside of Epernay. This small village is ideally set within panoramic views of open countryside with many field full of vines. There are seven current labels to explore along with Ratafia and they are very expressive in aromas and taste.
David produces his wines from home where his wine making equipment is located along with his cellars. I took a tour with David and he was obviously proud of the whole 'Levasseur' operation, but what also grabbed me was his dedication to wanting people to discover something new with Champagne and to do this via his creativity from the labelling of his bottles which is unique artwork from François Schmidt to the design of their website which is innovative and very much so artistic and creative.
Champagne A. Levasseur produces annually 35,000 bottles from their 4.2 hectares which are spread over 18 plots and located in the villages of Cuchery where the winery is based along Châtillon-sur-Marne and Fleury-la-Rivière. If you would like to find out more about purchasing their wines then currently Red Squirrel Wines are the UK representatives – Purchase here.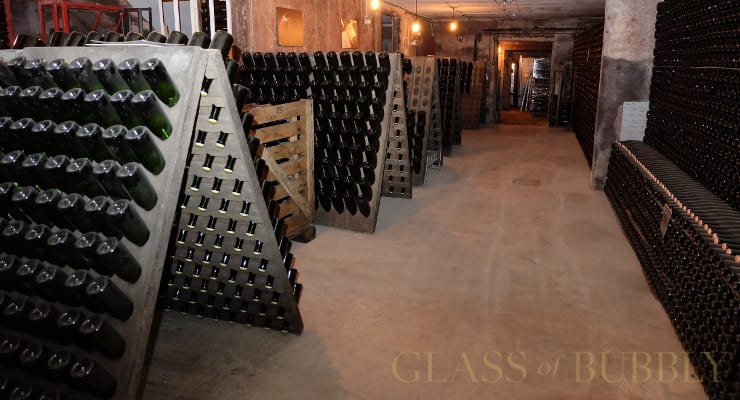 Whilst we sat and opened a few bottles of Champagne to taste, I asked David a few quick questions:
Why should people choose to buy your Champagne?
Of course, there are many reasons, though there are also many Champagnes to chose from! I want to say that our Champagne is a strong and a good taste, we are focused on awakening the senses. Tasting is a pleasure and this you get from Levasseur.
Is Champagne just a way to make money for you or is there something else?
It is a passion for sure though, to be honest, I do not think… We haven't got time to think about what we do it for though I know that I love what I do and the lifestyle I live each and every day as a Champagne producer.
It is a pressure job, we have much pressure in Champagne producing as we work with nature and nature is pressure!
One last thing David, which is your favourite food and wine pairing from your collection?
I would go with my Blanc de Terriors (Chardonnay) and pair it with a poulet de Bresse with a creamy white sauce. If I have a second choice then I would like to say that I'd choose my rosé with a delicate sushi dish.