Tasting Vintage Sparkling Wines From Around The World – 2014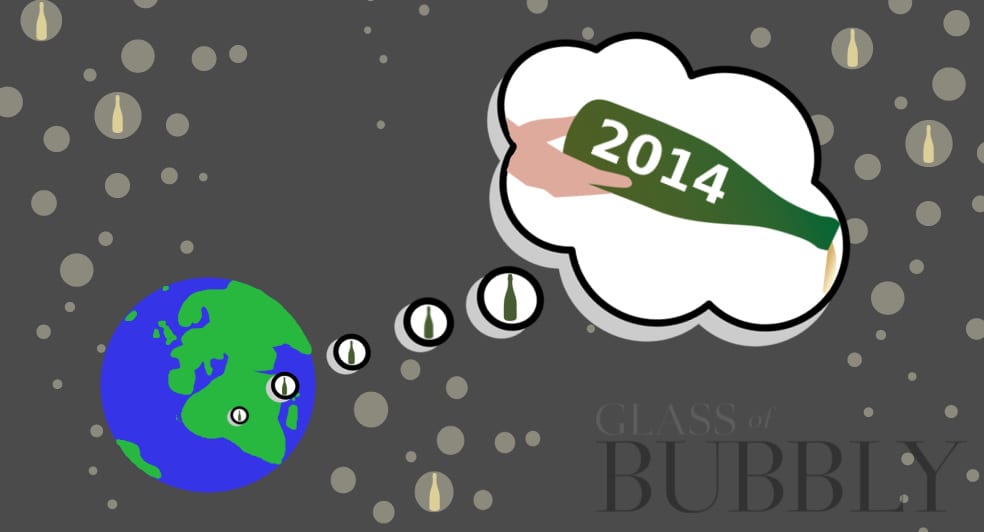 With every great harvest, a vintage is sure to follow, welcome back to the second article of this new series exclusive to Glass of Bubbly, where will take you around the world tasting the vintages of different years.
We started off this series with vintages from the year 2015 in Canada, Spain, Austria and Slovenia, you can check out that article here.
This time we are going back 6 years to 2014, where we will be trying 4 different Sparkling Wines from 4 different countries, including:
France
Italy
Germany
South Africa
We will find out a little about the wineries, the wine and the country along the way, and for the first time, I have recorded myself sharing these facts and tasting notes with help from Christopher & Eve Walkey on the Glass of Bubbly YouTube Channel.
But first, What is Vintage Sparkling Wine?
To class your bottle of Sparkling Wine as a vintage, the grapes used in that bottle must have all been grown in the same year, a lot of bottles out there are N.V. meaning Non Vintage, each harvest the wineries will extract the grape juice from the grapes but will normally store back some of the juice in case next years harvest doesn't produce as good of quality as the year before.
If a bottle of Champagne or Sparkling Wine has a year on the front or back of the label, then you will know that, that bottle of Sparkling Wine was made using only the grapes grown in that year, normally suggesting that the bottle of Sparkling Wine will taste more elegant than a N.V.
Let's Start Our Second Around The World Vintage Sparkling Wine Exploration in the Year 2014
France
A Glass of Champagne please, I'll tell you when…
10 Interesting Facts About France
At one point in time, France controlled 8% of the world.
If your loved one has passed away in France before you have married them, it's not too late, you can still legally marry a dead person in France, but only if they consent beforehand.
 The King of France in 1830 was Louis XIX (19), his Reign lasted for an incredible 20 minutes, or so, he abdicated right after his father did during the French (July) Revolution.
Just before Hitler visited the Eiffel Tower, the French decided to cut the cables to the elevator, meaning Hitler had to climb up 674 steps to reach the first floor and if he wanted to climb to the very top of the tower he would have spent at the very least half an hour climbing 1665 steps.
There is a coffee shop in France where being rude will literally cost you, just by saying hello and please will decrease the amount of money you will have to spend on your cup coffee, from 7€ down to 1.40€.
Imagine being born a king, not just in line to be king, but actually being born a king, that was a reality for King John I of France, but unfortunately, he didn't get to experience his life for long, he lived for only 5 days.
France uses 12 different time zones, the most in the world, more than the USA and Russia which are both tied for second with 11.
Whenever you wave a white flag, it means that you surrender, but from 1814 to 1830 the national flag of the Kingdom of France was just plain white, this happened the same year Napoleon was defeated and exiled and ended the same year as the French (July) Revolution.
More people speak French in Africa than they do in France, it's about 120 million people in Africa and 67 million in France.
If you want to become a citizen of France, then this is one way of going about it, if you join the French Foreign Legion and are wounded while defending France you can then apply to become a French citizen, they say you are "French by spilled blood".
Champagne Colette Bonnet – French Sparkling Wine
Champagne Colette Bonnet is located in France, their story started out in 1911 and they now create organic Champagnes, they are proud to not use any chemicals in their production.
Champagne Colette Bonnet Pinot Noir 2014 Extra-Brut Tasting Notes
Aroma – "Pastry, honey, apricot and peach aromas."
Taste – "Zesty in length with soft yellow fruit flavours."
This Champagne won a Silver Medal in the Classic & Elegant Category at The World's Finest Glass of Bubbly Awards 2019.
Italy
From the land of Romans, Christopher Columbus and Pizza, welcome to Italia.
10 Interesting Facts About Italy
About 40% of divorces in Italy use WhatsApp as evidence to report unfaithfulness.
On the 22nd of August 1954 Italy placed a bronze statue of Jesus Christ in the Mediterranean Sea, it stands at 8ft tall at a depth of 56ft.
There is an island in Italy called Poveglia that is reported to be so haunted that no one is permitted to enter.
Milan must be one of the happiest cities in the world, with a legal requirement to smile at all times, the only times you are not breaking the law by not smiling is when at a hospital or a funeral.
A man in Italy under house arrest in 2013, asked the police to be taken to prison to escape his wife.
When it comes to millionaires, you don't normally think of animals, but there is a cat in Italy that inherited 13 million dollars from its late owner.
The University of Bologna, constructed in 1088, currently stands as Europe's oldest university.
In 2008, people in the city of Marino, Italy, turned on their taps to find their water had been turned into Wine, this was thanks to a technical error during a grape festival.
There is a fountain in Italy that flows out red wine 24 hours a day.
In 1964, a man had a platform built off the coast of Italy which housed multiple buildings including a bar, night club and radio station, a couple of years later on the 24th of June 1968 the man declared independence from Italy and became President of Rose Island, it didn't last long though, that same year the Italian government sent in troops to crush the rebellion and then navy blew up the platform.
Lantieri Franciacorta – Italian Sparkling Wine
Here we have a superior quality Franciacorta (DOCG label) from one of the UK's best suppliers of Italian wines, Mondial Wine.
Mondial Wines offer over 600 wines from over 20 regions of Italy, sourced from the finest producers and delivered directly to your door.
Lantieri Franciacorta Brut Arcadia 2014 Tasting Notes
Aroma – "Oaky, burnt toast and damp hay aromas."
Taste – "The flavour takes you by surprise after the Oaky touch from the aroma. Smooth Zesty & Zingy flavours."
This Italian Sparkling Wine won a Bronze Medal in the Zesty & Zingy Category at The World's Finest Glass of Bubbly Awards 2019.
Germany
Oktoberfest, Bratwurst and Mercedes, we must be in Germany.
10 Interesting Facts About Germany
There is no punishment to try and escape from a German prison because they say it's a basic human instinct to be free.
After the devastation of World War I, only 1 in 3 women would find a husband in Germany.
Approximately a third of Germany is powered by Renewable Energy.
Every year in Germany there are on average 5,500 World War 2 bombs discovers, that's about an average of 15 bombs discovered and defused a day.
Berlin is 9 times larger than Paris and contains more bridges than Venice.
Germany abolished tuition fees in 2014 for students at all public universities.
There is a German town that is completely surrounded by Switzerland, it's called Büsingen am Hochrhein.
You can still see the East & West divide in Germany from Space, because of the different streetlamps they use.
In the German army, you are allowed to disobey a direct order if you think it would violate human dignity according to your moral sense of right and wrong.
More money is spent on pets in America than on Germany's defence budget.
Frank John – German Sparkling Wine
Frank John can proudly state that since their first vintage they have only been using grapes of bio-dynamic cultivation.
They bought their Hirschhorner Hof building in 2002 and then one year later they started their production of German Sparkling Wines.
To store their Sparkling Wines they renovated a 400-year-old Renaissance building into a wine cellar.
Frank John has the motto: "Great old-school wines".
Frank John 2014 Riesling Brut Tasting Notes
Aroma – "Fresh parsnip, green fruits and hints of petrol from the Riesling grapes on the aroma."
Taste – "Parsnips, zestiness and green fruit flavours."
This German Sparkling Wine won a Silver Medal in the Zesty & Zingy Category at The World's Finest Glass of Bubbly Awards 2019.
South Africa
The birthplace of a great comedic actor, Carry On's Sid James.
10 Interesting Facts About South Africa
South Africa is not just the rainbow nation, because they have 11 official languages, they are also the country of gold, about 40% of all the gold in the world has been mined out of Witwatersrand, South Africa.
There are a lot of carjackers in South Africa, so to combat this, it is legal to attach small flamethrowers to your car.
Ever wanted to have a drink inside a tree? In South Africa, there is a bar inside a 6000 year-old tree.
South Africa has a wide range of environments including deserts, mountains, subtropical forests, wetlands, grasslands, bush, and escarpments.
When it comes to clean drinking water, South Africa ranks 3rd for being the cleanest in the world.
Route 62 is the longest wine route in the world, stretching 850km.
Off the coast of South Africa there are more than 2500 shipwrecks with most of them dating back over 500 years.
The Republic of South Africa is South Africa's official name.
South Africa is 1 of 12 countries that have more than one capital city, South Africa has 3, including Cape Town, Pretoria and Bloemfontein.
On the 3rd of December 1967, Dr. Christiaan Barnard performed the first heart transplant at a hospital in Cape Town, South Africa.
Graham Beck – South African Sparkling Wine
Located in Breede River Valley in South Africa, Graham Beck was founded in 1983 and released their first N.V. in 1993.
It all started when the late Graham Beck purchased a farm just outside of Robertson, a town in the Western Cape Province of South Africa, he had the ambition to establish a world-class winery.
Graham Beck was an entrepreneur with success stories within property and coal mining, his global business ventures enabled him to pursue two great passions successfully – wine and horses/horse racing, both of which continue today in the hand of his son Antony.
Graham Beck: "Passionately pursuing the perfect bubble."
Graham Beck Pinot Noir Rosé 2014 Tasting Notes
Aroma – "Creamy red berry aromas."
Taste – "Ripe raspberry and white strawberries on the palate."
This South African Sparkling Wine won a Silver Medal in the Light & Fruity Category at The World's Finest Glass of Bubbly Awards 2019.
If you would like to find out more about Graham Beck then you can check out this article, Graham Beck – The Bubbly Story.
A Final Note
Well, this concludes our second adventure into the world of Vintage Sparkling Wines, there are many, many more Vintages to try from around the world, and there are still plenty of 2014 Vintages that we can still explore, stay tuned for the next Glass of Bubbly exclusive article on Around The World Vintage Sparkling Wines.
A special thank you to Fact Slides for helping me source out these amazing facts.
Oliver Walkey
Journalist focused on sharing Champagne and Sparkling Wine reviews and cocktails to the world.