Sparkling Wines from Europe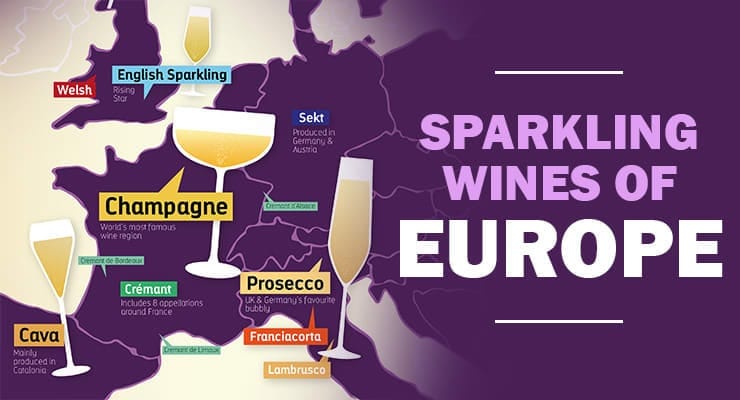 Champagne, Prosecco, Cava, Crémant… there's so many great sparkling wines being produced in Europe and it's easier than ever to discover them all.
The continent has a huge variety of styles, grapes and climates which make for some interesting tastes. The continent has some of the most famous sparkling wine regions in the world and an incredibly rich history in wine-making.
Here are the basics for some of the most common sparkling wines of Europe:
Champagne – Of course we have to mention the most famous wine in the world. Made in the north-east of France using the traditional method, or aptly name méthode champenoise.
Prosecco – This one also needs no introduction as it's currently the UK's best-selling bubbly. Made using the tank method which helps give its light and fruity taste.
Cava – The most popular Spanish sparkling wine, mainly produced in Catalonia.
Crémant – French sparkling made outside the Champagne region. There are 8 appellations in total, with the most popular being Crémant de Limoux, Crémant de Loire and Crémant d'Alsace.
English & Welsh sparkling wine – A relative newcomer to the scene, it is smashing expectations and has become a rising star in the sparkling wine industry due to its high quality.
Sekt – Sparkling wine produced in Germany and Austria. Around 95% of Sekt is made using the tank method (Charmat method).
Franciacorta – A traditional method sparkling wine made in Italy. Although less famous than Prosecco, it has gained a great reputation amongst wine experts.
Lambrusco – A red sparkling wine popular in the 70's and 80's which is now regaining popularity.
Espumante – Portuguese sparkling wine, produced throughout the country.
Glass of Bubbly
Executive editor of news content for the website Please enjoy the articles that we share - We hope you find our love for Champagne & Sparkling Wines both interesting and educational.