Wine and cheese are two very old friends. Traces of cheese has been found dating back to 2800BC and wine is even older. Both have been made by accident. The juice of the grapes kept in their natural yeast and the milk kept in a pouch, created to travel, made from animal's stomach!
I am not going to explain how to produce cheese this not why we are here! The best is to eat it!!
Sparkling and/ or Champagne, for some of us, might not be the first thought. But you
must try it to understand that it is two delicacies made for each other.
Here are some of my favourites pairing that I made while I was doing a tasting!
I hope you will enjoy as much as I did.
Fausto de Pizzato Espumante Brut Traditional comes from Brazil in Serra Gaucha, which is home to 85% of Brazil's wine production.
It is a blend of Chardonnay in the majority and completed by Pinot Noir, in a traditional method.
It has lively and persistent bubbles but elegant. The nose offers ripe citrus fruits with candied grapefruit and yeasty notes. The palate is dry and also creamy.The citrus note does come back on the palate, with a light sweetness on the finish.
Piave Fresco is a cheese produce in Taly in the region of Veneto. It is made from cows milk. 'Fresco' in Italian means fresh (young) which gives you an idea already of the flavour. The rind has a straw yellow at this age, quite elastic and compact. It is mild with intense notes of fruit such as golden delicious apple, with a hint of honey and hazelnut.
This pairing is an uncommon one, but a fabulous one not to miss!
Henners Brut 2010 is produced in East Sussex, blended with a higher percentage of Pinot Noir and finished by Pinot Meunier. Henners is as close as a Champagne if I may say!
A beautiful clean nose, showing some Williams pears and Danish pastry notes with a hint of citrus such as grapefruit. The palate is fresh, crisp but full. The bubbles are explosive, but elegant with a lovely creamy finish.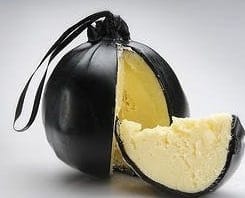 As we are in England we must stay here for the cheese pairing. I choose the Lancashire Bomb. As the name tells you it looks like a cannonball! It is made of wax and inside you will find paradise!
It is crumbly, but extremely creamy with a little acidity on the palate followed by some buttery and nutty notes. It is rich and balanced.
A perfect combination.
After, Brazil and England, here we are in France with the house of Krug. The blend of Krug Grand Cuvée stays a mystery we only know that they use Pinot Noir, Chardonnay and Pinot Meunier. There are around 120 wines from 10 or more vintages.
It is a very complex Champagne with an explosion of aromas. From toasted bread, hazelnut, brioche, jellied fruit, citrus and apple. The bubbles are fine and elegant. Which makes the Champagne an open door for pairings!!!
Brie de Maux with Black Truffles is the cheese that I chose, big wine big cheese!
It is known to be the strongest soft cheese, with particular aromas such as mushroom, damp leaves, I will say quite earthy, but the addition of the truffles and mascarpone make it a bit more soft and exceptional.
The delicacy of the truffle, the creaminess of the brie paired with the fabulous Krug can only make your mouth watering!