The season when cherry blossoms, known as sakura in Japan are in full bloom is one of the most beautiful seasons in Japan. During this time, you can see lots of wine bottles with sakura stickers in department stores, supermarkets and wine shops across Japan, which is to promote the winning wines of 'SAKURA' Japan Women's Wine Awards.
'SAKURA' Japan Women's Wine Awards is a very unique and international wine competition in Japan as all the judges are women. It started in 2014 in order to achieve three goals: first, to contribute to stimulate the wine market in Japan to reach a per person annual wine consumption of 5 liters; second, to make good wines that are compatible with homemade Japanese meals; and third, to increase opportunities for women to work in the wine industry.
The wine consumption in Japan has been increasing year by year although it is far lower than European countries. As the way of living has been changing, Japanese people enjoy drinking wine with food that is not only western, but also Japanese cuisine, both in restaurants and at home.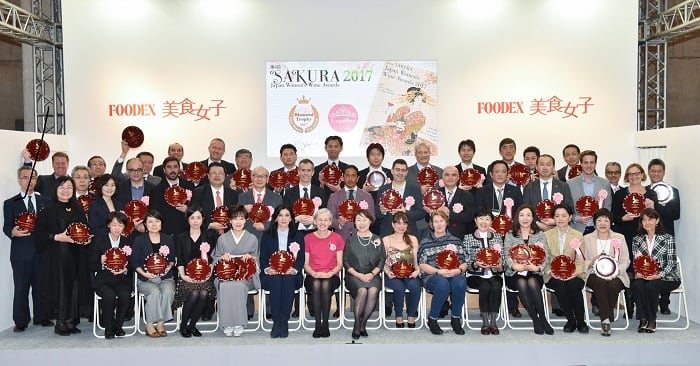 As a result of judging made by a total of 420 female wine professionals over a 5-day period, 4,212 wines were awarded among 11,872 items from 37 countries after the tasting assessment. Double Gold – for those wines that scored between 95-100 points; 237 items. Gold Awards – for those wines that scored between 88 − 94 points; 899 items. Silver Awards – for those wines that scored between 80-87 points; 736 items.
44 items of the Diamond Trophy, which is the most honorable award, were selected among the Double Gold in 2017. There are eight variety sparkling wines from Grande Marque to South African Methode Cap Classique, Lanson Extra Age Blanc de Blancs Brut N.V., Collard-Picard Dom Picard Grand Cru Brut N.V., Michel Gonet Rose, Louis Bouillot Cremant de Bourgogne Perle d'Or Brut 2008, Caves Bailly Lapierre Vive la Joie Rose Brut 2009, Jacueline Brut N.V., Ferrarini Lambrusco Cà del Lupo Brut 2014 and KWV Cathedral Cellar Brut 2010.
This selection is amazingly diverse in terms of both the style and the price. They are great for introducing the diversity of sparkling wines to Japanese consumers because the well known Champagne or Cava dominates the consumption of sparkling wine in Japan. I am happy to introduce five bottles of different styles as one of the judges.
Champagne Collard-Picard is a recoltant manipulant founded in 1996. Dom Picard Grand Cru Brut N.V. is their prestige Bblanc de Blancs. This beautifully elegant wine with finesse is attributed by the Grand Cru Chardonnay from the vineyards next to the Salon in Le Mesnil-sur-Oger, and Oger. The fresh yellow grapefruit, crisp apple along with brioche and toasty flavours. The satisfying structure is given by oak fermentation. The quite tight and lacy acidity without MLF is balanced with 8.5g/ℓ of dosage, providing a long lasting succulent finish.
Jacqueline Brut N.V. is made from pretty rare grape varieties such as Airén, Ugni Blanc and Colombard for the French sparkling wine, as the owner is a well-known Cognac house, Camus. It is thrilling to know that Jacqueline, which is designed for female consumers, was selected as one of the best wines by Japanese women. It is a lively fresh wine with citrus and yellow apple. It is a very friendly wine with just 11.5% abv that any adult not only women can enjoy at any time and with any kind of food in a casual way.
Lambrusco Cà del Lupo Brut 2014 is a superb, food-friendly red sparkling wine from Emilia-Romagna, Italy. It is because the producer, Ferrarini, is proud to offer us the best and traditional Italian specialities. The grape variety, Lambrucsco Grasparossa provides an intense ruby colour, a good structure and a dry savoury finish along with blackberry, blueberry, pomegranate and spicy flavours. It will be perfect with their Parmigiano Reggiano cheese and palma salami.
Cathedral Cellar Brut 2010 is produced by KWV, which has been playing an important role in the South African wine industry. This wine is made using Methode Cap Classique, which is the name used to refer to South African sparkling wines made by the 'traditional method' and the premium category of South African sparkling wines growing significance and importance. The bright golden color and the aromas of very ripe apple, grapefruits, pear and pineapple from the warm Mediterranean climate are balanced with lively acidity and the maturation with lees for 24 months adds brioche flavors creating the complexity.
I am delighted to introduce the very last bottle, Michel Gonet Rosé. I actually met this female winemaker, Sophie Signolle Gonet at the 2015 Vintage London Tasting by Grand Circle des vins de Bordeaux last March as Michel Gonet is a recoltant manupulant Champagne producer and also has a vineyard in Bordeaux. Her rosé showing almost an onionskin colour describes the long maturation with lees for over 8 years. It is only made from the single vintage of the very best Pinot Noir. Very complex aroma with ripe red apple, dried apricot, caramel as well as authentic buttery French brioche. All elements are blended together and nothing is predominant, creating depth. You can enjoy this matured éose with your main course such as pork or lamb.
The success of 'SAKURA' Japan Women's Wine Awards will contribute to increasing the wine sales in Japan. I am very optimistic about the prospects for building a higher recognition of this award and I hope it will lead Japanese consumers to select the variety of wines from many different regions depending on occasions or foods.