Though Prosecco has had a very good time of recent years with increasing sales and fans across the world, it has also taken on the tag of being the cheaper sparkling wine alternative especially against the likes of Champagne. I do not really want to compare the two, but for consumers it is still very much so that Champagne is the ultimate and usually more expensive / worthy more of its higher costing placement against Prosecco which has been the trendy yet cheaper fizz solution.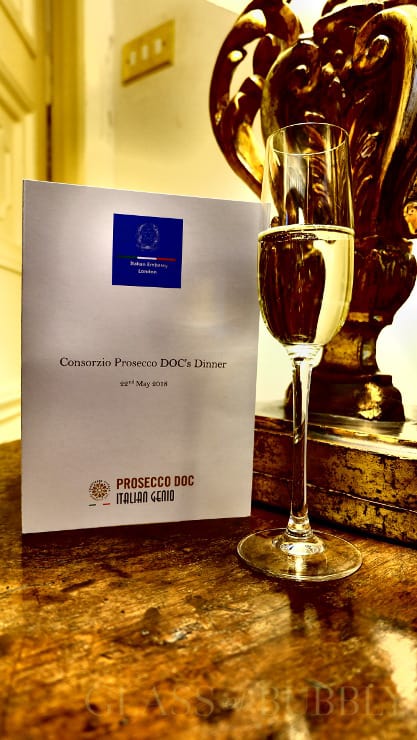 Of course, Prosecco is an altogether different sparkling wine to Champagne in that it is a charmant method over traditional, easier and quicker to make and usually shares with us much more fruitier flavours such as yellow apples and pears, an aperitif wine, one for the local bar with your friends, that easy to put in your shopping basket thanks to on going in-store promotions so with all this in mind – Can Prosecco really stand up to being paired with fine foods?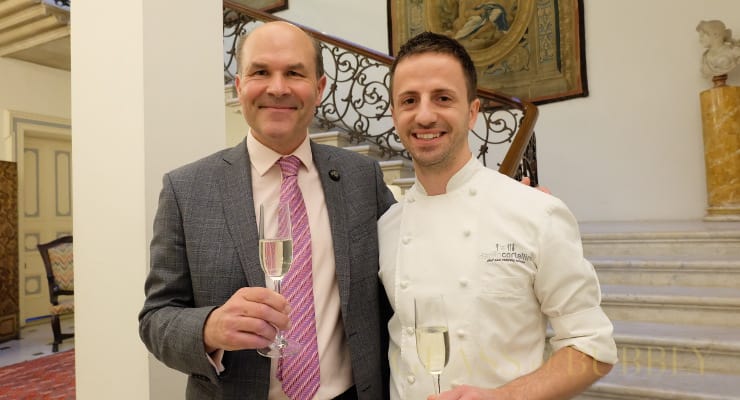 Neil Phillips & Danilo Cortellini
Well it was certainly put to the test thanks to a kind invitation from Prosecco DOC to attend a special dinner at the Italian Embassy with their head Chef, Danilo Cortellini. It was for me my very first organised dinner with selected courses for a sparkling wine that was not of traditional method so my curiosity was certainly on full alert during the evening. Neil Phillips (UK brand ambassador for Prosecco DOC) was also in attendance to both engage and entertain us with speeches and explanations on the wines we were tasting.
The wine region of Prosecco is split in to sections of which the Prosecco DOC holds the biggest volume with a approximately £2 billion turnover and a production of 440 million bottles and nearly 25,000 hectares of vineyards. The world loves its Prosecco so behind all the bottles that go out across the world (75% of the production goes abroad) there are 0ver 1,000 winemakers, 10,000 growing farms and approximately 350 production houses – If you ever want to visit a wine region for your holidays then Prosecco as a whole holds a wealth of experiences and such wonderful scenery (I have been there 7 times to date).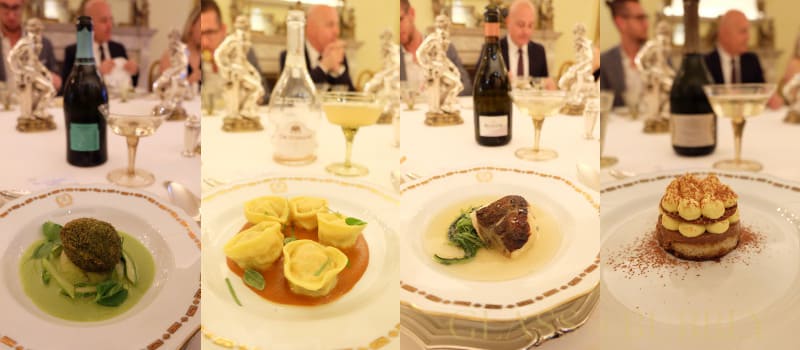 So, which Prosecco were served during the evening? Below is the menu in full with my tasting notes:
Canapes – Paired with Ruggeri Prosecco DOC Brut
Tuna tartare and avocado
Mini arancini with tomato and mozzarella
Frico Friulano – a mini cheese, potato and onion pie which is traditional to the Friuli Venezia Giulia region
Beef tartare with marinated egg yolk
"Ruggeri Prosecco is a most enjoyable one, full of character and flavours with enough body to it to pair nicely with small canopies such as we had served to us (above)."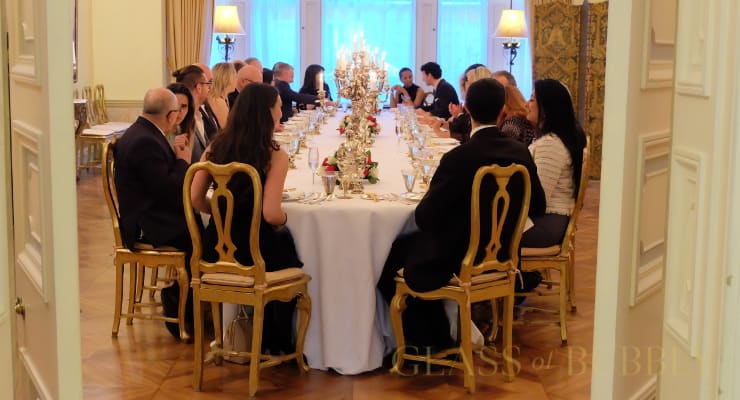 Main Menu
Crispy egg with asparagus – La Jara Prosecco DOC Frizzante
"The Prosecco gave a neutruelising balance between the rich egg dish and the fine yet citrus/fruity flavours of the wine."
Crab tortelli alla "busera" (tomato and shellfish sauce) –  Biancavigna Prosecco DOC Tranquillo
"The sauce and overall dish is very rich with fine lasting flavours so here the Prosecco was challenged to enhance any flavours on either dish or wine."
Prosecco DOC marinated cod with wild chicory and Grana Padano DOP broth –  Rifermentato in bottiglia (various wineries)
"The dish is quite relaxed with no strong flavours nor heavy texture, here the Prosecco was complimenting the food by giving a refreshing balance."
Il tiramisù  – Zardetto Prosecco DOC Extra Dry
"Here the Prosecco crisp and citrus/apple/pear flavours worked well against the rich cream and sweetness of the dish. The dry style Prosecco worked well with the dessert."
After Drinks
Petit fours – Grappa di Prosecco Nonino
"A fine way to end the evening with the local produce of Prosecco, Grappa. A smooth yet punchy spirit that deserves to be served on it own due to its fine flavours."