Congratulations to No 1 Family Estate with their No. 1 Rosé which received a Trophy at The World's Finest Glass of Bubbly awards 2017.
A panel of 36 top industry wine judges tasted all the entries for 2017 and were able to not only scores wines with medals, but also place them in to easy to understand categories such as Sea Breeze: "Some of us love refreshing, almost very zesty style of wines. When you taste this wine you will imagine yourself standing on the beach and tasting those tiny sea drops in the air."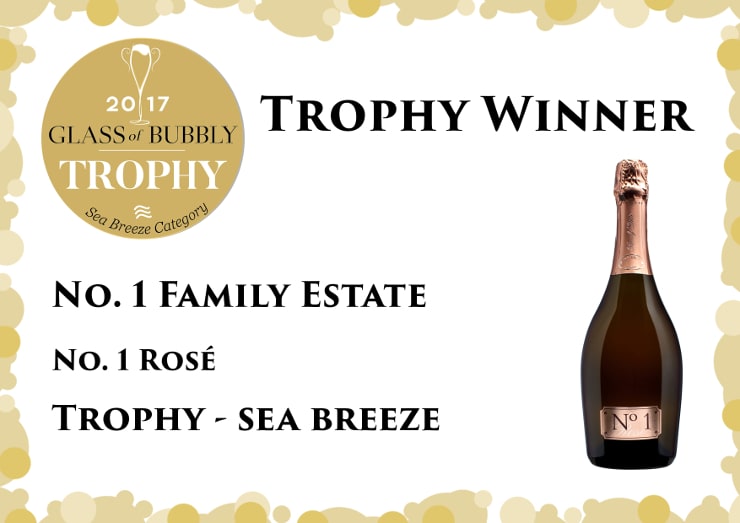 The fruit for this second release of the No 1 Rosé was grown on North South facing vines on the stony Rapaura soils. The Pinot Noir 10/5 clone vines are spur-pruned and hand-harvested when the fruit balance is optimal, taking advantage of Marlborough's cool nights and naturally high acids to provide freshness on the palate.
The Pinot Noir was pressed gently on a long, slow cycle and then fermented with a traditional French Champagne yeast in a stainless steel fermenter. It underwent a natural malolactic fermentation and spent nine months on lees in tank before the tirage,  bottling and a further 20 months on lees in bottleRiddling and disgorging were carried out in September 2010 using traditional French methods.
This wine celebrates the superb climate of Marlborough and will continue to age and delight for two to three years.
100% Pinot Noir, delicate salmon-pink with a mass of tiny bubbles, the wine offers a seamless balance of subtle cherry and almond hints combined with a fresh acidity. Dry, yet fresh and elegant, this wine leaves a lasting impression of opulence and splendour.
"No. 1 Family Estate offer are such stand out sparkling wines that I seem drawn to them every time I see them at tasting events, once is never enough! I love the balance of the wines, full of flavours and aromas yet remaining smooth and refreshing offering fruity and creamy notes. I am so pleased that No 1 Family Estate's quality was also spotted by the judges at The World's Finest Glass of Bubbly award by giving them a well deserved Trophy for Sea Breeze." Christopher Walkey
You can order No.1 Family Estate Wines online via Amathus Drinks.