Martini is that special ingredient for many cocktails, it is a fine blend of Italian white wine with herbs and sweet floral botanicals. Though what about their presence in the sparkling wine market – Are they making an impression worthy to be tried?
I am sure many people will also think about Leonard Rossiter and Joan Collins when Martini is mentioned, though not directly it should be added, only on the repercussions of the adverts. In fact Ms Collins and Mr Rossiter during the 1970's were part of the Cinzano adverts that though highly successful in popularity never really captured the consumers understanding to what they were advertising and simply further encouraged sales to Martini who had the market share during that era. At the time Martini adverts were themed on wealthy and trendy twenty-somethings enjoying the high-life of beaches and yachts which resignated more with people's purchasing heart strings.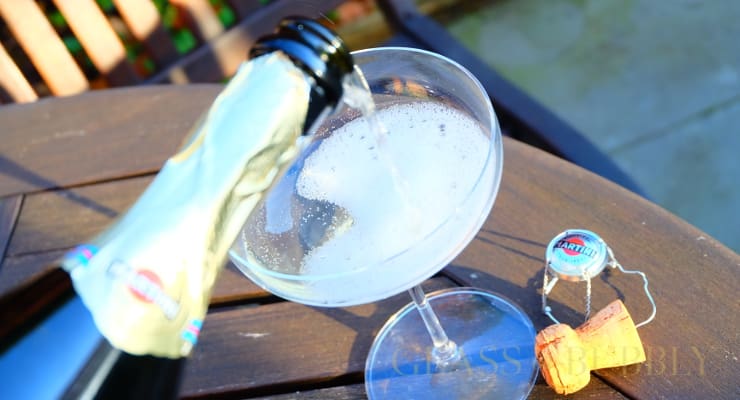 So, Martini Sparkling Wine range includes:
ASTI: Produced from the aromatic Moscato Bianco grape grown in the unique climate of Asti in the Piemont region. Delicious after dinner as a sweet conclusion to the evening.
Rosé: An elegant and aromatic infusion of fresh summer berries. Wild strawberries and raspberries produce a sweetness balanced by pink florals. Its rose-tinted body glistens best when dining al fresco.
Prosecco DOC: One of the few authentic Proseccos from the hills of Treviso. Dry, with notes of apple, banana and thyme, this crisp sparkling wine works equally well in refreshing the palate before a meal, as it does as an aperitivo accompaniment.
"Interesting selection from Martini which to be honest I had yet to taste previously so was happy when we received samples to our office. Particularly enjoyed their Prosecco DOC as many wines from this region can be all too much bulk produced and you lose very much the tasting experience this region of Prosecco can offer. Extra Dry is stated on the bottle, but it is not overly sweet and I'd even put it as a touch on the Brut / Extra Brut side. Good fruity pear and bruised green apple aromas with an easy to drink taste. Good fine bubbles and lively in the glass – A perfect mixer for some Prosecco cocktail recipes. You can purchase this bottle around £6 where stocked in store and online so a good deal in my view." Christopher Walkey