Today, London is one of the intriguing gourmet capitals of the world with a fast growing and complex network of locations for fine dining and enjoying impressive wine lists. At Glass of Bubbly we are privileged to attend many restaurants and Champagne bars reviewing and tasting comprehensive wine lists and experiencing fine foods not forgetting of course meeting the wonderful people working at them, on many occasions we are highly impressed and sometimes we stumble across a gem.
When you enter Les 110 de Taillevent for the first time and gaze through the glass doors your heart skips a beat and you know that you are going to be experiencing a unique, anticipation that another gem is to be discovered. Attention to detail in interior design, gastro style seating, warm lighting through bottles in the bar area, impressive curtain cut to exact length all of which we saw instantly as we were the first to arrive on the evening – As the evening drew on the place become very busy indeed.
Myself and Tanya Mann were pleased to be welcomed by Head Sommelier Christopher Lecoufle who's passion for Les 110 de Taillevent was clear immediately and totally relaxed us in sound knowledge that we were in safe hands and that no matter how complex our wine requirements were, we were going to be looked after. I am a supporter of venues having their own Sommelier, those of course who can afford to, and especially if you are keen to explore the wine list of venues you visit, a qualified Sommelier can really increase your overall experience and enjoyment of wines.
Christopher also gave us a private tour of the wine cellars at Les 110 de Taillevent where many superb wines were safely stored with many fine vintages and rare editions and incredible to know that Christopher knew where each and every one of his wines are stored, no need for a wine catalogue or diagrams!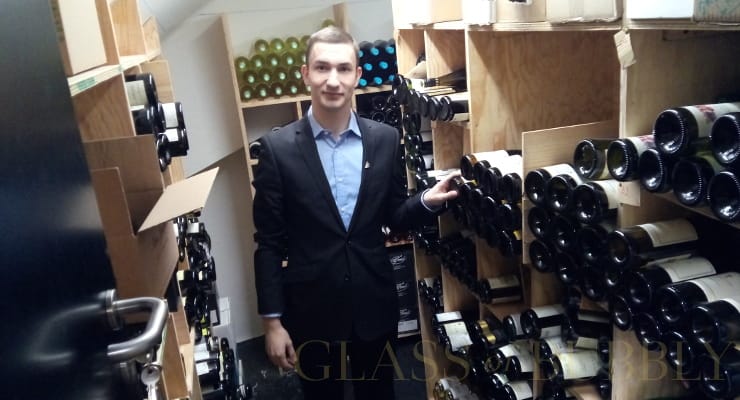 The menus were very well planned out and easily pairing for you, via colour coding, the best wines suggested by Christopher to compliment each of your courses. I was particularly pleased to see a Cote Roannaise on the list having spent a few years living in this wine region and I was also pleased to see a fine selection of Champagne and Sparkling Wines. What myself and Tanya decided upon was to allow Christopher to select both the foods from the A La Carte menu and the Champagne / Sparkling Wines to accompany each. Myself and Tanya just sat back with anticipation and enjoying the soft jazz tracks playing in the background.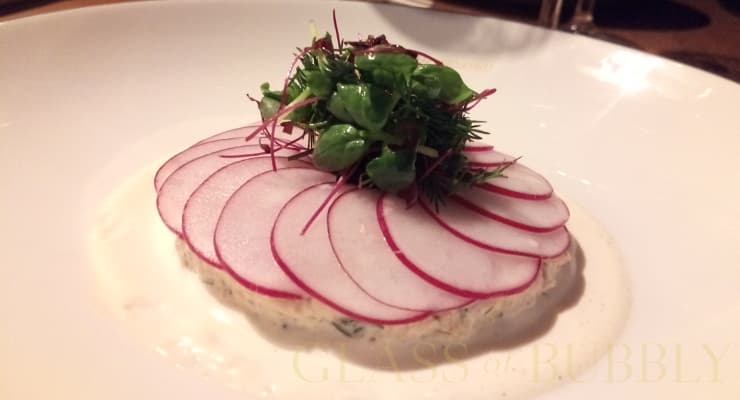 Cornish Crab, rémoulade, dill and fennel.
Paired with:
Bellavista Franciacorta: "Because of the sweetness notes of the dish and creaminess, the floral character of the Bellavista comes to life."
Recardeo Brut Nature Grand Reserve 2009: "The dill has herbal character, the Cava is vintage and spicy so this brings a whole new sophistication of the wine and adds to the tasting experience."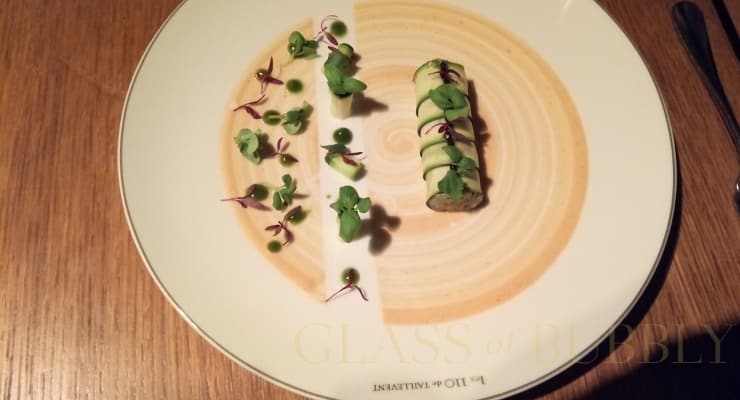 Scottish Langoustine Tartare, courgette, coriander, cocktail sauce.
Bellavista Franciacorta: "Such a refreshing combination, I would describe it like 'an after rain experience'. Elegant starter with Bellavista, does not take the highlights of each other tastes away and adds to the elegance of both the dish and the wine."
Recardeo Brut Nature Grand Reserve 2009: "The Cava we felt was just a little too heavy for this dish and loses a little bit of the complexity of the dish."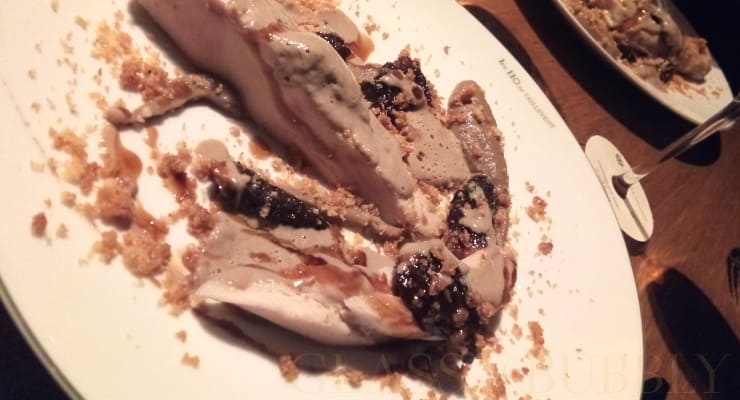 Farm Yellow Chicken, poached, stuffed morels, mushroom purée, Comté.
Champagne Jacques Selosse Brut NV: "With the morels, gives a floral and refreshing taste to the Champagne. The mushroom sauce gives complexity and spicy notes. The fired chicken skin crumbs gives the Champagne a sweeter experience and an oak taste. The chicken does not change the flavour of the wine, (important tip to know for those starting off in pairing foods with sparkling wines).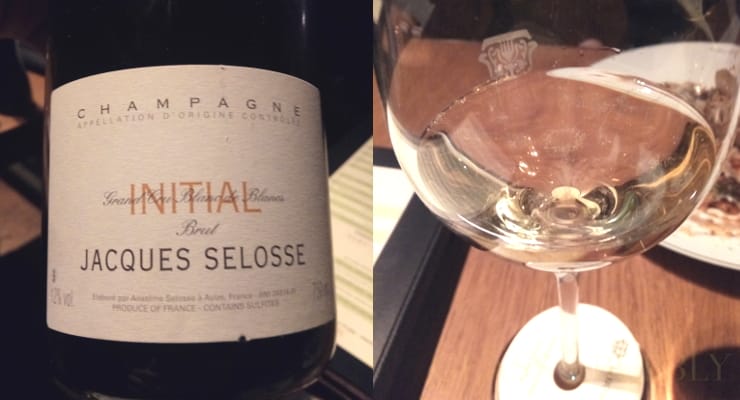 Enjoying the dinner all together is where we really see the wonderful combination between the two. Though not a typical way to cook chicken for most in that you have to trust the chef that your chicken arrives very tender and slight pink. The moisture of the sauce is absorbed by the chicken in that is offers a taste that is complex which the Champagne combined with is not lost. As we found out, one glass of Champagne Jacques Selosse may just not be enough when enjoying this dish."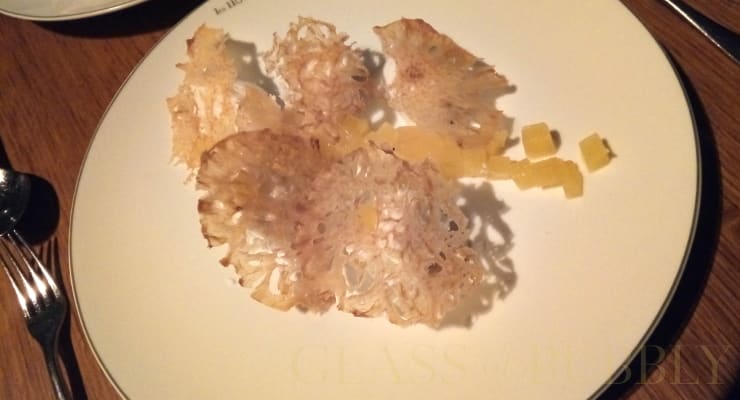 Coconut, mousse and sorbet, poached pineapple, exotic fruit coulis.
Moscato D'Asti Vintage 2011: "Such a beautiful balance. Do expect a lot of bubbles with this vintage, instead take pleasure from a deep golden honey colour a very rich and expressive tasting wine. You need to have some space left in your already very contented tummy to enjoy this very rich and wine dessert combination."
Moscato D'Asti Vintage 2015: "Brings freshness to the dish. I picture a young lady in a red spotted dress in a field on a Summers day – A bright and youthful combination. The wine brings an enjoyable freshness to this coconut dish."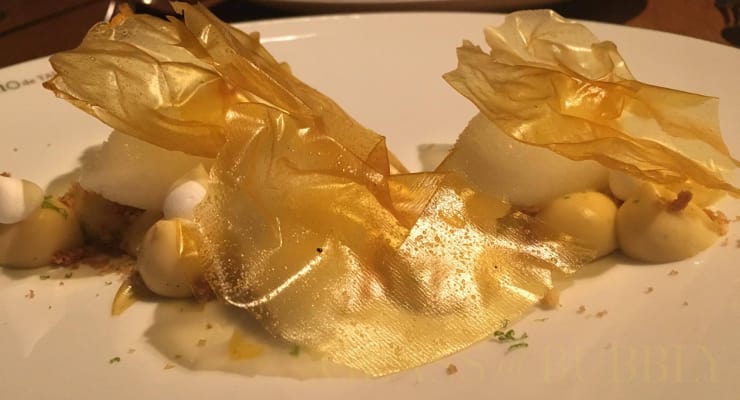 Calamansi Lemon, passion fruit, meringue, shortbread, tequila & lime sorbet.
Moscato D'Asti Vintage 2011: "The wine gives a honeycomb and refreshing style of acidity with a long smooth citrus taste to the wine. Palate cleansing and I would say allows you to easily go on to enjoy another digestive course such as a port / sherry."
Moscato D'Asti Vintage 2015: "A friendly floral combination, full bodied and gives you a nice full stop at the end of your dinner."
After such a wonderful dining experience considering we have already been enjoying Les 110 de Taillevent for some three hours, Head Sommelier Christopher along with Managing Director Nicola Munari had one more surprise for us to experience which was a glass of very fine Champagne Brochet Extra Brut: "A nutty aroma and brioche notes with a complex and vintage taste."
Les 110 de Taillevent we can certainly recommend if you are searching for a very fine wine and dining experience, prices are not too high and you've many wines to chose from both 70ml taster size and 125ml full glass size. Spoil yourself, learn about pairing wines with foods and be engaged by the very talented Head Sommelier at Les 110 de Taillevent, London who will visit you after each course to introduce the wines he is about to pour you.