Le Marche wine region – Undiscovered?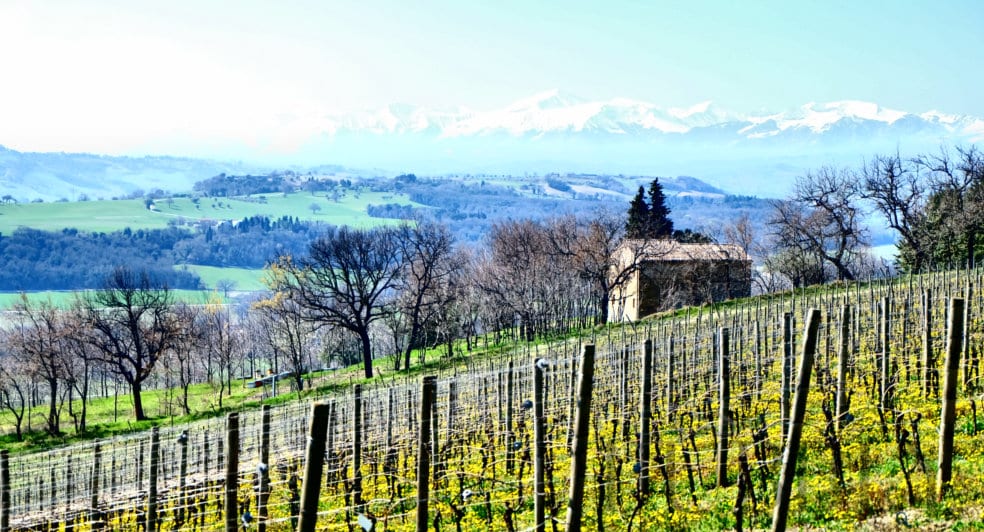 Sitting on the Adriatic coast and boasting wonderful and spectacular regional beauty, calming and unspoiled, can it still really be classed as yet to be discovered?
Wines, cheese, olive oil and foods including amazing fresh fish with many markets, restaurants, wine houses open to visits from the public the region of Le Marche offers a wealth of amazing tastes and views.
The region has a warm Mediterranean feel, holding five geographies including warm sandy beaches stretching some 180 kms and yet also wavy picturesque land and hills peaking with mountains giving snow peaked ski lovers paradise styled destinations.
From the sea up to the mountains, Le Marche is well worth the effort to be discovered both for the tourism and of course the sparkling wines! Choose from over 300 art galleries and museums, 26 towns that face the Mediterranean sea, 5 nature reserves and 100 symbolic monuments.
I was only recently in the Le Marche region visiting a family friend who himself owns a small vineyard in the community of Colmurano along with the family olive oil label and a wonderful guest house overlooking some incredible far reaching rich countryside views, snow peaked mountains and just over half an hours drive from the beaches of the Mediterranean. As we sat on the terraces of his property enjoying the early evening rays of the sun and the more or less undisturbed natural beauty of the land and after grabbing the binoculars to watch a family of wild boar running through the fields of the neighbouring hillside we decided to explore some of the wonderful (plenty of Verdicchio and Sauvignon Blanc grape) sparkling wines that this region offers:
Conte Leopardi Vino Spumante Dolce – Trophy Winner for 'Dessert Category' at The World's Finest Glass of Bubbly Awards 2018:
Owned by the Leopardi Dittajuti family, it has been handed down from father to son for many generations. Current owner, Piervittorio, is one of the leading producers of Sauvignon Blanc in the Marche. His vineyards are located on the foot of Monte Conero, the only mountain in Italy that reaches the coast.
"Fresh sweet fruit aromas – ripe orchard fruits and a pastry delight. Flavours are sweet orchard fruits, tropical notes and quince jelly."
Serboni Vernaccia Di Serrapertrone Dolce – Bronze Medal Winner for 'Winter Warmer Category' at The World's Finest Glass of Bubbly Awards 2018:
"Very tempting aromas giving red rose petals, plum candy and strawberry jam. Well balanced sweet dark berries, plum, dark cherry and a touch of dark chocolate in flavours. A fairly decent length that doesn't leave any bitter after-taste thus making it a very more'ish red sparkling wine."
Montecappone Marche Sauvignon Brut – Silver Medal Winner for 'Spring Fling Category' at The World's Finest Glass of Bubbly Awards 2018:
"Clean green fruits in taste with touch of citrus and white pepper in the length."
Il Pollenza SRL Zero Dosage 2012 – Silver Medal Winner for 'First Date Category' at The World's Finest Glass of Bubbly Awards 2018:
"The extra brut 2012 rosé holds a toasty and yeasty nose. Flavours are dry, toasty, green pears, granny smith apple hints of berry fruits."
Alberto Quacquarini Vernaccia di Serrapetrona DOCG Dolce – Trophy Winner for 'Winter Warmer' at The World's Finest Glass of Bubbly Awards 2018:
"Rich aromas showcasing dark berry fruits, plum and hints of spice / white pepper. Flavours are full and touch dry, dark berry flavours with a refreshing dryness at the close. Great wine to be paired with fine foods."
Mencaroni Metodo Classico Brut Milesimato:
The bunch of grapes is softly pressed. It permits to obtain 40% of must. The fermentation occurs at controlled temperature of 16°C and the tirage occurs in the following year. The wine takes place on the noble wine lees for 40 months and it is sold 6 months after the degorgement with the addition of liqueur d'expedition.
Christopher Walkey
Co-founder of Glass of Bubbly. Journalist and author focused on Champagne & Sparkling Wines and pairing them with foods.