The white grape harvest, or 'vendemmia' as it is known in Italy, is well under way. Cellars are scrubbed and hosed down. Stainless steel tanks, which are used to store the must, are spotlessly cleaned. Machinery is in place. The seasonal workforce are drafted in. All family members of the winery drop other non-wine related plans to get their baskets in hand and their cutters sharpened up, and then everyone lines up along the rows of vines, anxiously waiting for the final signal from the chief winemakers and vineyard managers to start picking.
It's a wonderful time of year to be in a winery. Harvest brings a great feeling of excitement to all corners of the vineyard, and everybody is buzzing with anticipation of a great wine, a reward for their very hard work and many sleepless nights throughout the year. The sweet, fruity notes of freshly crushed grape juice swirls around in the air, making those lucky enough to be here a bit jittery and dreamy at the thought of potentially great sparkling wines to come.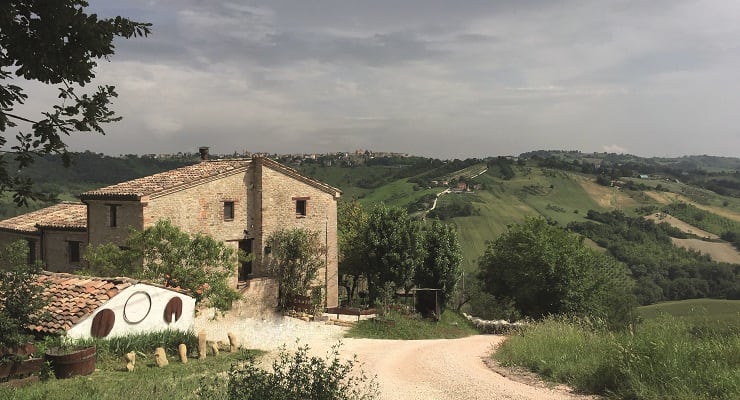 The 2018 central Italy harvest is expected to be as good as, if not a touch better than the great recent harvest of 2015. A very cold winter, led into early spring rains and were then followed by a long, hot dry summer with just enough rain in early August to give the grapes that final charge of energy needed to push the clusters over the line and into harvest. Early expectations from Le Marche vintners are wines with great acidity and optimal sugar levels, providing the winemaker with the two most important steps in creating great wine in the cellar.
In the previous two chapters on the journey through Le Marche, the focus was on the best producers and artisan winemakers who spend their lives crafting indigenous grape varietals into outstanding wines, as well as the enormous influence that French viticulture has had on Le Marche. These great craftspeople are to be highly commended for resurrecting old native varieties which would have otherwise slipped from our grasp and into the corridor of history.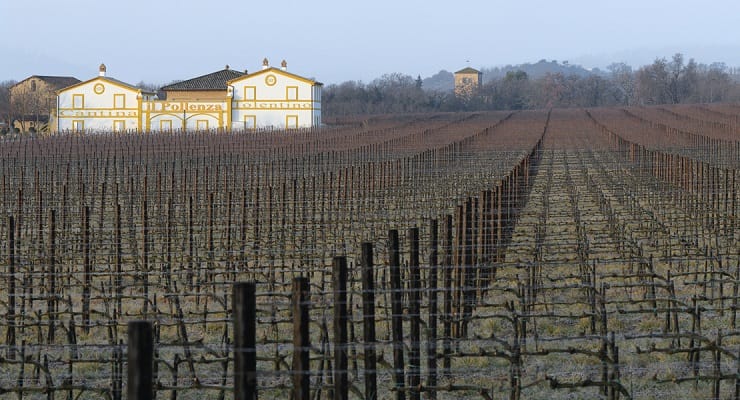 The influence of French viticulture has introduced Syrah, Cabernet Sauvignon, Chardonnay and Merlot to the region, and these varieties are all grown very successfully here. However,there is a steady shift towards using two outstanding varieties for making great Metodo Classico Spumante – Pinot Noir and Sauvignon Blanc. These two, are  without doubt, producing the best "international variety" sparkling wines in Le Marche today. To some purists, Pinot Noir and Sauvignon Blanc are best when made only in their rightful homes and countries of origin. However, Le Marche is one of the best terroir-driven regions in Italy, with a varied typology of fertile soils from limestone, clay, sand and marl, and a multitude of mini-microclimates. It is an exceptional region for growing and producing wines of great character.
Two Le Marche wineries in particular that deserve great credit for their commitment to international varieties are Azienda Montecappone, located in the heart of Jesi, Ancona, and Il Pollenza which is located in Tolentino, between the ancient towns of Colmurano and Macerata.

Azienda Montecappone is owned by the Mirizzi family, with agronomic and winemaking expertise led by Lorenzo Landi. The vineyard is planted to 70 hectares of vines, of which 70% is made up of white varieties such as Sauvignon Blanc, Passerina, Pecorino and Verdicchio. (The outstanding still wine in this cellar is without doubt the "Utopia" Verdicchio dei Castelli di Jesi DOC Classico Riserva.) The remaining 30% consists of Montepulciano and Sangiovese Grosso, an ancient variety which, when blended with Montepulciano, forms the base of the great Rosso Piceno DOC wine.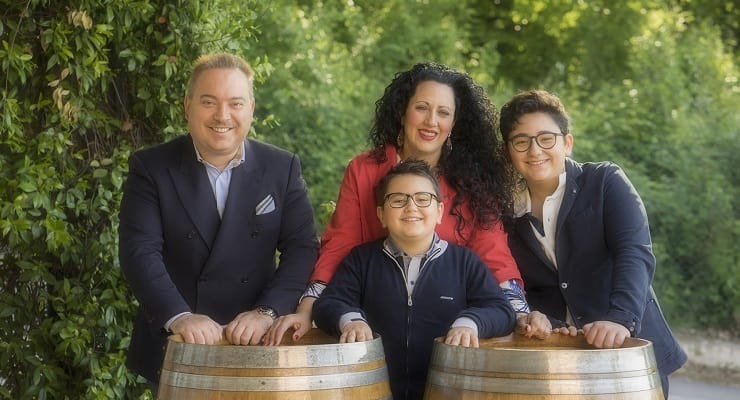 Montecappone Sauvignon Blanc spumante is one of the finest examples of sparkling wine in Le Marche. The grapes (approx. 2.5kg per vine) are harvested in small batch containers to keep fruit damage to the absolute minimum. This labour-intensive practice results in the highest quality juice being obtained, ensuring the journey from vine to wine gets off to the best possible start.
The resulting wine, following 5 months in autoclave is delightful.
Straw yellow hue in colour with a fine perlage, very clear notes of passion fruit, white pepper and pink grapefruit are evident. This initial burst of flavour is followed by the freshness of yellow rose, linden and lemon balm. The wine has zingy acidity, and finishes with hints of sage and wild herbs.
Montecappone Sauvignon Blanc, spumante extra brut, is excellent as an aperitif, delicious with most fish dishes, especially fried, and is perfect with pizza. To enjoy this gem of a wine at its best, it should be served at 6°C.
For more information on Azienda Montecappone and stocking these wines, please visit: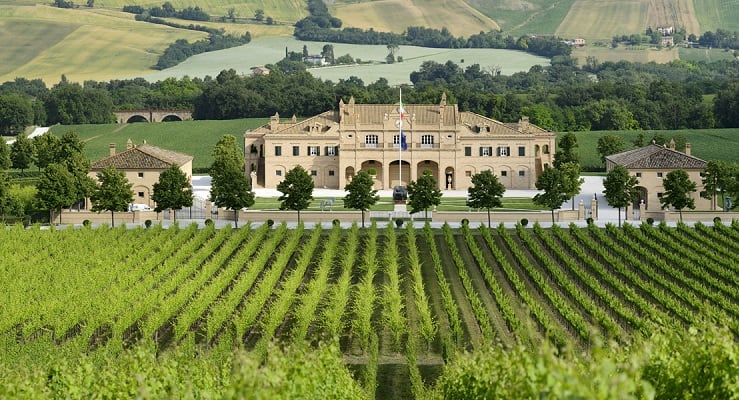 The journey from Jesi to Tolentino is just under an hour. Long winding roads over rolling hills with spectacular scenery all round and a host of historical farmhouses dotted along the route make the journey an experience to savour. There is a real sense of time standing still here. The life of an artisan farmer starts at dawn, leading up to breakfast at 8am which consists of coffee, sometimes with the addition of an anis-based liqueur – they call this a "corrected" coffee! No sooner is breakfast over when thoughts quickly turn to lunch. This is the heart of agricultural Le Marche, where the real discoveries are made without the use of a GPS. The people here are very friendly and welcoming. This is where the real artisan gems of the region are discovered, from cheese, olive oil, cured meats, wine, breads, honey and a host of other gastronomic delights. Each household grow and create their own products, and are always happy to share with unexpected guests. There are many open doors along the route, and a simple knock could lead to a 10 hour stay!
Having passed through the towns of Cingoli and Treia, the winery of Il Pollenza appears in the distance. It is a prestigious estate stretching to nearly 100 hectares. Production started the year 2000, but the family history in the area goes back to the early 1200s. The winery's main focus is on international varieties, namely Cabernet Sauvignon, Cabernet Franc, Merlot, Petit Verdot, and Sauvignon Blanc. The top white wine of this estate is made from the Maceratino (Ribona) variety and the top red is Il Pollenza, a blend of both cabernets (Sauvignon and Franc), Petit Verdot and Merlot. This wine competes with the Barolos, Amarones and Supertuscans for its place among the great wines of Italy.
Since 2006, all winemaking at Il Pollenza has been directed by Dr. Carlo Ferrini and Giovanni Campodonico. Well known and respected in their fields, both are very experienced in the art of crafting exceptional wines that can compete at the highest level on every stage internationally. Although this winery cannot be classified as an artisan winery, great credit and respect must be given to winemaker Giovanni Campodonico, who not only spends most of his time immersed in making fine wine but is very happy to give his valuable time and knowledge to some of the smaller producers throughout the region. Without the influence and presence of Il Pollenza on the international stage, the region and wines of Le Marche would be a lesser-known winemaking region.

The standout sparkling wine at Il Pollenza is the Metodo Classico Brut Rose, made from 100% Pinot Noir. This spumante is produced from estate-grown Pinot Noir vines that are approximately 15 years old and planted in clay limestone soils with a northern exposure. The grapes are all hand picked and fermentation takes place in cement tanks, finishing with a short period in stainless steel. Before release, the wine spends up to 48 months on the lees and another 6 months in bottle. Graceful, fragrant and buttery, with elegant notes of bread crust, biscuit and a shade of minerality. This leads into apricots, tropical fruit, peaches and scents of small red fruits followed by notes of cyclamen and hyacinth. The wine is refined, savoury and fresh, with great structure and a soft mineral finish. The wine pairs perfectly with strong-flavoured seafood, in particular carpaccio of swordfish with early harvest extra virgin olive oil.
If you would like to know more information on Il Pollenza and stocking these wines, please visit:
In closing, no trip to Le Marche would be complete without a stay at one of the many agriturismo guesthouses throughout the region. One guesthouse in particular (Laughter in the leaves) is perfect for those with a keen interest in food and wine, the artisan and slow movement, and exploring off-the-beaten-track places. Laughter in the leaves is a fully restored eco farmhouse which from 1750-1990 was a property producing vino cotto, a type of fortified wine made exclusively in Le Marche. The farm is run by a family with a great knowledge of local artisan producers and their products. Here, high quality extra virgin olive oil is produced, as well as, homemade breads, jams, cakes, and a host of other foods. Vegetables are grown throughout the year and used as part of lunch and dinner wine pairing events. The house is stocked with a wide selection of artisan wines and the owners are happy to provide food recommendations, local knowledge, wine and olive oil tours and tastings, and places to visit – particularly local wineries. If you're looking for a memorable stay in Le Marche and want to learn all about the Italian ways of old, while minimizing the stress and having a full-on artisan holiday and experience, then this is the place for you!
If you would like to know more information on booking this activity in Le Marche, please visit:
Written by Graham Herbert