Tell us about Prosecco
Prosecco is mainly divided into two different appellations: Prosecco DOC and DOCG. The Prosecco DOC is produced from 9 provinces spanning the Veneto and Friuli Venezia Giulia regions and, at the present, it is the Prosecco easiest to be found on the UK market. The province of Treviso is the heart of the Prosecco DOC area, which is a flat region where normally it is possible to get high yields per hectare. The Valdobbiadene Prosecco Superiore DOCG, on the other hand, is only produced in the very steep hills of 15 communes lying between Conegliano and Valdobbiadene.
This small area presents the best conditions in terms of soils minerality, sun exposure and ventilation to grow Glera grapes. Normally in this area yields are very low, since everything must be strictly done by hand. Valdobbiadene DOCG Proseccos are immediately recognizable thanks to their lively elegance, pale straw colour, restrained body and distinctive fruity and floral nose.
Of special worth among these are the Crus: the famous Superiore di Cartizze and the Rive. The Superiore di Cartizze is the Cru of the denomination and comprises a small area of 107 hectares of vines in the steepest hills in the commune of Valdobbiadene. It is the result of the perfect combination between a mild microclimate and very varied terrain. Cartizze is widely considered as a sumptuous sparkling wine. The Rive Proseccos, on the other hand, represent the essence of terroir. They are produced, in fact, exclusively from grapes that come from a single commune or hamlet/village therein, thus highlighting the characteristics that a particular area confers on its wine. In the Conegliano Valdobbiadene zone there are only 43 Rive, which offer an equal number of distinct territorial expressions.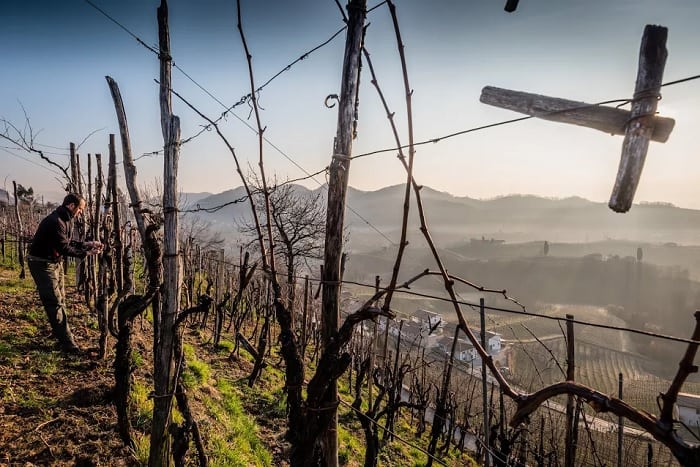 How many styles of artisanal Prosecco are there and what are their main differences?
As already mentioned Valdobbiadene DOCG and Prosecco more in general, is generally produced in Sparkling (Spumante) and Semi-sparkling (Frizzante) versions. The Sparkling version is the iconic one for the denomination; appealing and versatile, it has created its own distinctive style of drink. The Semi-sparkling Proseccos, on the other hand, are normally more delicate since they present fewer bubbles and therefore, less intensity on the palate. Some winemakers are also reviving the customary Prosecco Colfondo, refermented in the bottle but not disgorged, as the wines are left on their lees (the French would call it sur-lie). This yeasty residue leaves a fine sediment on the bottom (fondo in Italian) that imparts more complexity and flavour. Prosecco is mainly produced in Brut, Extra Dry and Dry versions, depending on the residual sugar contained in the wine: Brut is the driest style, Extra Dry is exactly in the middle, while Dry is the sweetest version.
Is artisanal Prosecco more of a gastronomic experience or can it be enjoyed on its own?
Generally speaking, people tend to drink Prosecco by the glass during an aperitif and this is definitely a very good use for a light and fresh bubbly. However, Proseccos coming from low-yield vineyards are generally more intense, deep and characterful. For this reason, these kind of wines are perfect companions to a variety of food dishes. For instance, you could start a dinner party offering a Valdobbiadene DOCG Extra Dry as an aperitif; then, you could continue matching a Valdobbiadene DOCG Brut with a creamy seafood risotto and finish off your meal with a fresh fruit dessert and a Cartizze. You may also find interesting that some Rive Proseccos can be pleasantly matched to carpaccio, English roast beef and other delicate meat dishes too.
How has it been received here in the UK?
I must say that the feedback we got from our customers at Hay Wines, press, and the general public has been beyond our best expectations. We knew that the UK was an excellent marketplace for Prosecco, but we undoubtedly took a risk when we decided to focus our imports on small artisan producers only. They all make characterful and vibrant Proseccos, yes, but they also are not well-known to the market and their products tend to be more expensive than products within the same category. However, we found out that there is a significant segment of the UK wine market already looking for something more than entry-level Prosecco and that there are consumers willing to pay a premium to get something really unique. I believe this is the reason why, after only a few years since we started our imports activity in the region, we have already had important acknowledgments and results, both as importers and as 'UK ambassadors' for Valdobbiadene Prosecco.
Do you have a favourite and why?
To be honest, I started to get really passionate about Prosecco only a few years ago, when we first developed this ambitious project focused on Valdobbiadene Prosecco and its terroir. Since then, as you can imagine, I have had the opportunity to taste many different styles of Prosecco and I must say I always prefer the driest versions. We are exclusively importing from Bastia Rebuli winery a very rare example of a Zero Sugar Prosecco, the 'Introvers0', where you can taste Glera in all its finesse. I am also really passionate about Colfondo Proseccos as they genuinely represent the essence of Valdobbiadene and its tradition.