With ten London based restaurants and a further three located outside the region, Thai Square offers over 1,000 specially selected dishes for customers to enjoy the in-depth and popular world of Thai cuisine. The Thai Square group, though only relatively young in age having launched in 1996, already has an impressive selection of awards to include 'Best Luxury Restaurant' and holds a growing reputation in the capital for offering the best in Thai Cuisine – They are the biggest Thai restaurant group in Europe.
I was very pleased to receive an invitation to visit Thai Square restaurant in Islington having walked past the place many times before and never having the time to pop in. I was particularly impressed with the neat and clean layout inside and especially their upstairs cocktail bar area and I could not fault the warm personalities of their staff and their great attention to detail. There is a very relaxed atmosphere in this restaurant despite it being in a very busy area of London with a flow of traffic and footfall outside. The character of the decor and Thai cuisine aromas make you feel instantly at ease and forgetting the busy lifestyles outside that we all lead.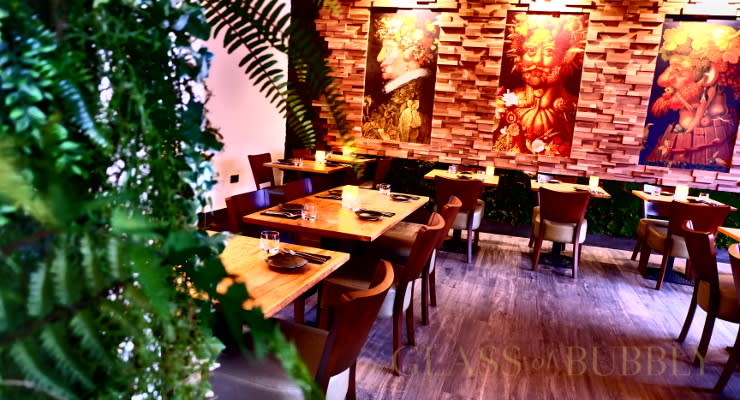 Their menu at the Islington restaurant offers quite a selection of dishes with many of the popular choices available. I was served a selection of fine food to experience the level of cuisine and to also experience how bubbles and Thai cuisine paired. The house Champagne is Gremillet Brut Selection NV (by glass £10 or bottle £47) and the house Prosecco of Le Dolci Colline (by bottle only £32) are both quite fruity fizz – The expected heated and spicy flavours of ginger, basil, ginger and more pair so very well with the crisp and fruity flavours of the Champagne / Prosecco. Here we have a great combination that works so well in that each, the food and sparkling wine, balance so well together.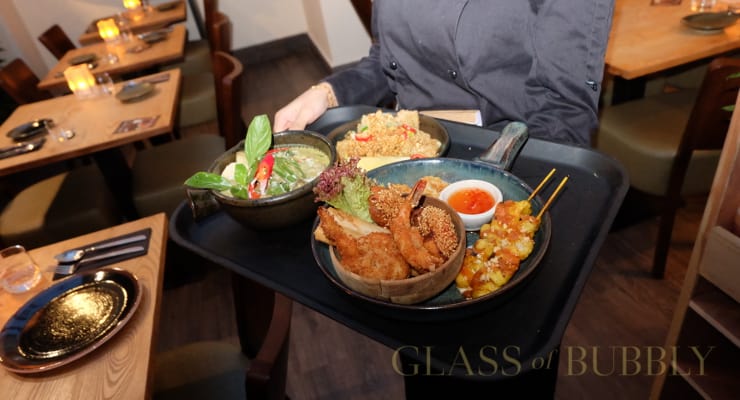 Champagne Gremillet Brut Selection NV: "Full of aromas to include red apples, brioche, apricots and white rose petals. The flavours are intense and gives ripe yellow stone fruit flavours, white pepper, apricot pastry and more."
Prosecco Le Dolci Colline: "Quite light in aromas and flavours which are mostly fruity with red apples and ripe dark green pairs with hints of apricot and lime zest."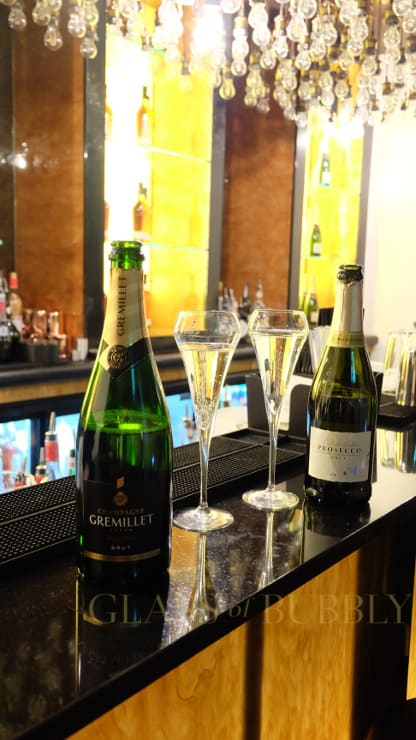 The wine list at Thai Restaurant Islington is equally impressive including a selection from Monsoon Valley (wines of Thailand), Moet et Chandon  Brut Imperial NV (by the bottle at £59) and a choice of cocktails such as 'Golden' which is a great way to start your visit to Thai Square with includes vodka, rose syrup, gold duct and a topping of Champagne. I do urge anyone visiting to take a walk upstairs to their cocktail bar and be tempted by the cocktails prepared by their team…