Frerejean Frères Champagne launches Blanc de Blancs NV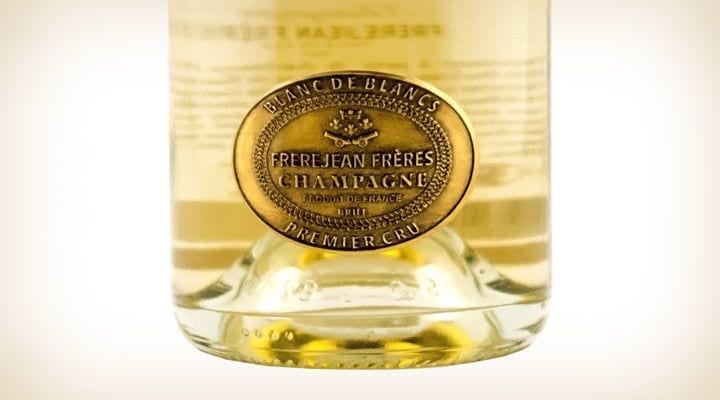 Frerejean Frères is delighted to announce the launch of its exclusive new Blanc de Blancs non-vintage cuvée adding to their existing Champagne portfolio. The blend is made from 100% Chardonnay from different years, all sourced from their special premier cru region and has a 12.5% abv content. Its opulent yet delicate taste can be attributed to the unique plot of vines from which it originates in the Côte de Blancs.
Frerejean Frères Blanc de Blancs is priced at £48.60 and is available through Honest Grapes.
The history of Frerejean Frères Champagne
Frerejean Frères Champagne first launched in the UK in spring 2014. Aged for five years and produced entirely from premier cru grapes, the Frerejean-Taittinger brothers' Champagne has, through the years, grown to become one of the most exciting of the region. Their Champagnes showcase not only the family's heritage and history in the Champagne tradition, but are a true embodiment of their French savoir-faire.
Immersed in the Champagne tradition from a young age, the Frerejean-Taittinger brothers were always passionate about oenology and it is no surprise that they decided to launch their very own Champagne house, Frerejean Frères. Frerejean Frères Champagne originates from the Côte des Blancs and the premier cru village of Grauves just south of Epernay.
The fermentation process and maturation take place in their cellars in Grauves and the wines are aged for over a five-year period in the cellar, setting Frerejean Frères apart from most Champagnes.
Through the years, Frerejean Frères has had a number of high-profile partnerships in the UK, such as the Ham Polo Club of London. They have also been chosen for prestigious events at Brown's Hotel Mayfair, The Royal Meeting at Ascot Racecourse, Asprey, and the launches of Margaux in South Kensington, Villandry in St James's, and City Social.
With its delicate bubbles and luminous freshness, Frerejan Frères is perfect for any occasion.
Glass of Bubbly
Executive editor of news content for the website Please enjoy the articles that we share - We hope you find our love for Champagne & Sparkling Wines both interesting and educational.