Digby Earns its Stars & Stripes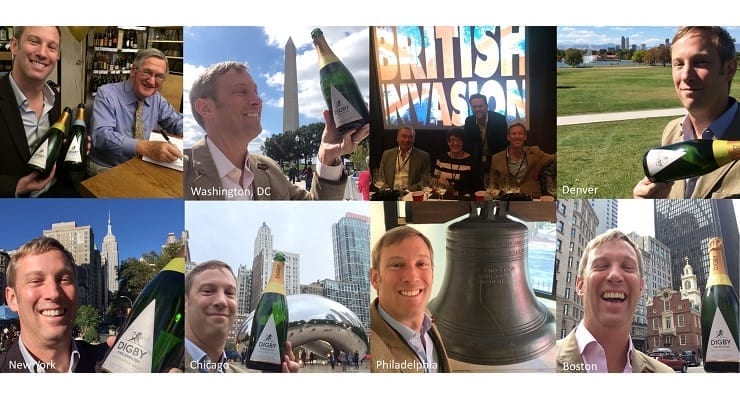 The whirlwind launch of Digby Fine English in the United States last month has seen its flagship, 2010 Vintage Reserve Brut, being listed at Alinea in Chicago which has three Michelin stars.
Trevor Clough, CEO of Digby, commented: "Chef Grant Achatz's Alinea is famous for blurring the lines between art,
theatre and food, a glorious intersection of the senses. We are so honoured to have Digby as a small part of the
experience there. The beginning of Digby's American adventure has been incredible – our dream of becoming an
internationally loved English brand is well and truly coming true."
Other Michelin starred listings include Acadia in Chicago (two stars) and Rose's Luxury (one star just awarded in
Washington DC's first Michelin guide). Clough spent two and a half weeks in the US for Digby's Launch Tour,
including New York, Washington DC, Chicago, Denver, Philadelphia and Boston.
The formal launch event was in the residence of the British Consul in New York and was a joint celebration with Hugh Johnson, as well as three other English sparkling producers.
Digby Fine English was founded to produce the ultimate expression of English sparkling wine, capturing quintessential Englishness in a glass. Drawing inspiration from the history of English innovation and luxury, the company's namesake is Kenelm Digby, the Englishman who invented the modern wine bottle in the 1630s. Digby is England's first negociant, cultivating relationships with some of the best growers of Chardonnay, Pinot Noir and Pinot Meunier in South East England and achieving world-class quality through the refined art of blending.
Glass of Bubbly
Executive editor of news content for the website Please enjoy the articles that we share - We hope you find our love for Champagne & Sparkling Wines both interesting and educational.