Congratulations to Champagne Laurent Lequart with their Millésime 2008 which received a Trophy at The World's Finest Glass of Bubbly awards 2017.
A panel of 36 top industry wine judges tasted all the entries for 2017 and were able to not only scores wines with medals, but also place them in to easy to understand categories such as Classic & Elegant: "This will likely be a stylish wine showing balance with a refined quality."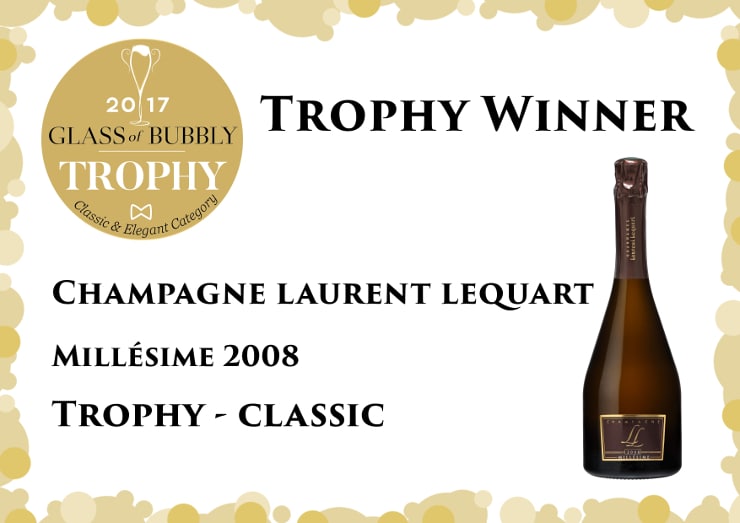 "This 2008 vintage is made from a 50/50 blend of Meunier and Chardonnay aged in oak casks. This wine reflects the richness and purity of an exceptional vintage. The wine has a medium intense golden colour.
The nose witnessed a perfect maturity that evokes candied fruit smells, hawthorn honey and orange blossom. Furthermore, there is the presence of lemon grapefruit and yellow plum fragrances. The palate gives way to a concentrated tasty and persistent fruit aromas with a nice pretty and equilibrium." Quote from website.
"I must say that I have been lucky enough to visit many grower Champagne labels at their wineries across this famous wine growing region. Laurent Lequart I particularly remember by being immensely impressed with their selection of vintage Champagne. Located in Passy Grigny, in the heart of the Marne valley, I enjoyed a fine tasting with the current owner and wine maker Laurent Lequart – I was obviously expressing my admiration for their wines as I was given a bottle to take away with me!" Christopher Walkey