President Fabrice Rosset and Chef de Caves Michel Davesne, are pleased to announce the release of Hommage à William Deutz. Vin 100% Pinot Noir – Vignoble (Maison) d'AY – Millésime 2010.
Pure AY, as it is here that William Deutz, a man of vision, who fell in love with the beauty of the landscapes and the reputation of the terroir, decided to set up his business, with a few associates in 1838. A majestic terroir stretching from the banks of the Marne River up to the southern slopes of the Montagne de Reims, which at that time already was standing as one of the most prestigious districts in "Champagne".
The magic of "assemblage" –to a large extent- still prevails in Champagne. However, driven by changing climatic conditions, times change too, isn't it conceivable today that great wines, with great personality, can be achieved with just one –or a couple- of plot(s) of vineyards. and / or with just a single varietal?
Although the concept did not materialize during William Deutz' times; today the vision has turned to reality at Deutz.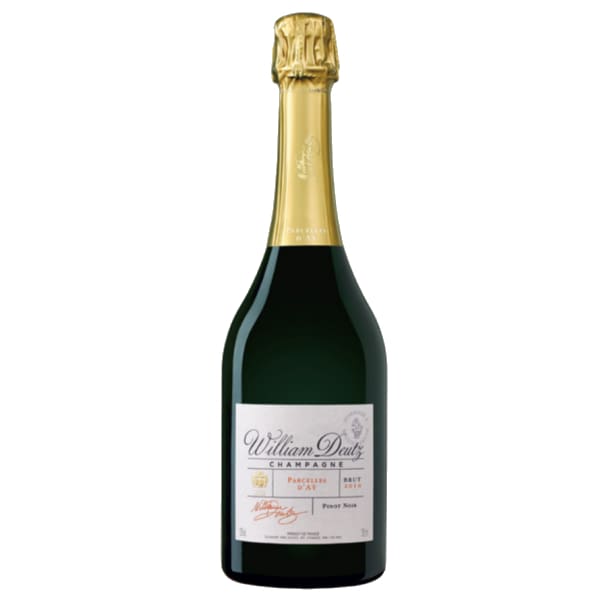 HOMMAGE À WILLIAM DEUTZ
Single varietal 2010
TASTING NOTES
– Its bright, clear, deep golden hue is fringed with copper tints.
– The expressive nose opens out with seductive notes of vine peach, quince, apricot and mirabelle plum. The bouquet of primary aromas gives way to subtle notes of honey and almond.
– The palate is enticing with its purity and direct style and offers a subtle expression of its prestigious terroir. It reveals remarkable balance between freshness, purity and complexity resulting in a sensation of harmony and pure elegance.
– The clean, direct attack evolves towards an intense minerality on the mid-palate. Rich, smooth notes of white and yellow stone fruit and a hint of ginger coat the palate.
– The rich finish is underpinned by delicate iodized notes, characteristic of the hillsides on which these grapes grow.
– The ageing potential is important, the wine will improve over the years.
COMPOSITION OF THE CUVÉE
– Made exclusively from Pinot Noir grapes from Aÿ, grown in the Meurtet (52%) and La Côte Glacière (48%) parcels.
FOOD AND WINE PAIRING
– The ideal choice for an aperitif, the cuvée Hommage also makes the perfect partner for refined dishes such as a grilled lobster, tuna carpaccio, partridge pie or cheeses such as Chaource.
– It also works well with sushi and Asian cuisine in general.