Who can ever resist an evening of Champagne in London? Thought so! So off we went to attend the launch of the re-branded Champagne Castelnau at Sakagura restaurant on Heddon Street, just off from Regent Street. A great many of their labels were on show to include some rarer vintages and a jeroboam of 1990.
Managing Director of Champagne Castelnau, Pascal Prudhomme joined the UK team of its subsidiary, Castelnau Wine Agencies, to unveil radical new visual communications for the Reims-based House as it enters its second century.
Following twelve months of research and development since the brand celebrated its 100th anniversary, the new communications for Champagne Castelnau include new labels, new gift packaging and new trade marketing materials, which together introduce a boldly creative new language and environment for the brand.
The new concept captures the expertise, inventive creativity and audacity which have long been hallmarks of Castelnau, taking the brand forward with a new identity, including the erasing of the word "de" from the brand name, and a new logo comprising two linked letter Cs for Champagne Castelnau, embedded in a black drop motif, signifying the "bead" of Champagne.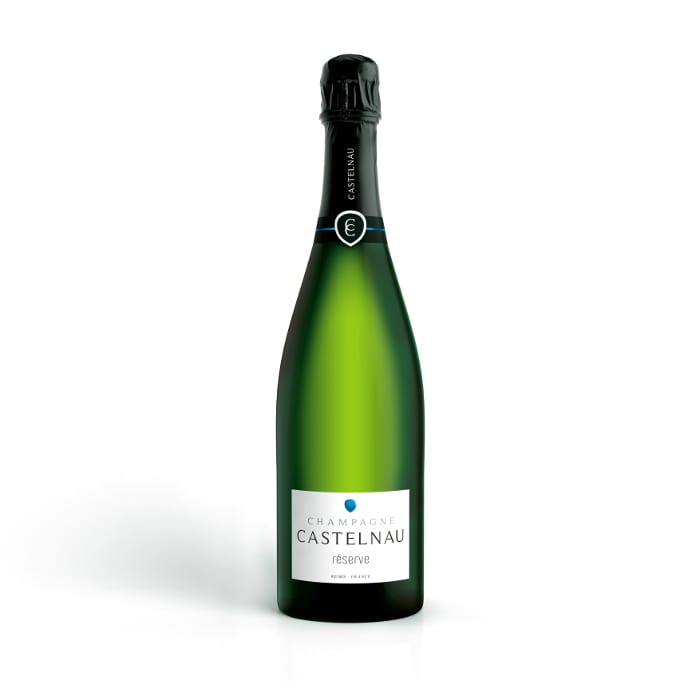 The move away from more traditional Champagne cues is deliberate and the different styles of Champagne from Castelnau are identified via different colours of an additional drop motif on the communication materials, including the labels.
Explaining the strategy behind the new launch Pascal Prudhomme comments "Celebrating our centenary last year gave us the opportunity to reflect on our journey ahead and I decided to do an internal audit of our brand, which showed great loyalty from our current customers, plus the opportunity to widen our appeal to new customers. Our ambition is to sell one million bottles by 2020 and two million by 2025 so reaching an extended audience is key. Therefore, the new concept is based on two things: our roots, signifying the quality of our wine, and our soul, signifying our audacious attitude, embracing the unusual or the unexpected. We are now entering a new era of communication about Champagne Castelnau."
The new look range from Champagne Castelnau will be presented at the London Wine Fair (stand D22) and is available in the UK from Castelnau Wine Agencies, who will also unveil a new company identity at the fair.
About Champagne Castelnau:
Known for its extensive lees aging, Champagne Castelnau has a long established reputation for its top quality range which includes Brut Réserve (six years on lees), Brut Rosé (four years on lees), Blanc de Blancs (twelve years on lees) and Brut Vintage (twelve years on lees).
Champagne Castelnau is located in the heart of Reims. Their grape growers own more than 900 hectares of vineyards across some of the best terroirs of Champagne in 149 different crus, guaranteeing exceptional supply possibilities for the production of outstanding Champagne.