I totally get why some people in the world of sparkling wines including producers would prefer that their wines are enjoyed as they are, though many of us will still look to enjoy our fizz in cocktails. A cocktail can be something we have got all the ingredients for and we follow a strict recipe online to the casual and let me experiment cocktails, without doubt for me they come alive more when they involve some sparkling wine.
Chambord is a luxurious liqueur made from black and red raspberries with Madagascan vanilla and XO Cognac giving intense raspberry and vanilla flavours. The French liqueur is world famous and a favourite for many for inclusion in cocktails especially its namesake of Chambord Royal (Champagne and Chambord).
On the day for my review, I pulled out a Brut Nature sparkling wine (reduced sugar wine) from Slovenia (Radgonske Gorice and along with the Chambord I simply added some fresh garden mint and blueberries (as I always love to see them rise and fall in the glass). To compliment the cocktail I simply added some fine chocolate from Beech's with their 'Anglesey Sea Salt' and 'Dark Chocolate' bars.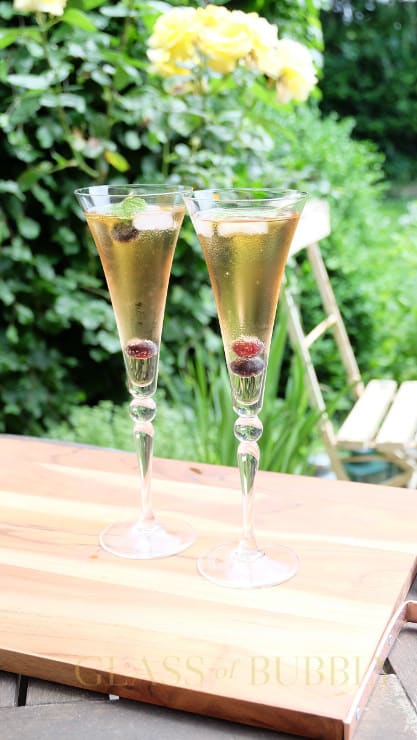 Radgonske Gorice – Zlata Penina Brut Nature: "Mid golden colour. Though touch dry, it excites the palate with fruity flavours including orchard fruits, lemon pulp, gooseberry with meaty / vanilla hints and a length offering honeycomb. Ever tried Slovenian sparkling wines – It is a must for your bucket list!"
Chambord & Zlata Penina Brut Nature Cocktail (with fresh mint and blueberries): "The dry flavours of the sparkling wine and sweet / sharp boost from the Chambord enables the luxurious flavours to shine through of the ripe raspberries from the liqueur and the honey/yellow fruits of the sparkling wine. A subtle cocktail, easy to drink and easy to prepare!"
Beech's 'Anglesey Sea Salt' chocolate bar: "Paired with the cocktail it fitted in very nicely. The explosion of flavours from the cocktail along with the dry and touch salt from the chocolate enabled the creamy texture of the Beech's fine chocolate to shine through. A pleasing combo!"