When looking for a fine winery, one searches primarily for authenticity. Domaine Martinolles, one of Domaines Paul Mas' 12 estates, finds its legitimacy in the rich history of the region. It resides in the Limoux appellation area in St Hilaire, birthplace of "La Prima Perla", the first bubble. The method of sparkling wine production was discovered here in 1531.
Wishing to change beliefs that great bubbly only resides in Champagne, Domaines Paul Mas has created wines to rival the best. The Rural Luxury concept behind all the Domaines Paul Mas brands is driven by the philosophy that great wines do not have to be expensive but affordable and stylish.
The singularity of Domaine Martinolles wines comes from the exceptional terroir of clay and limestone which gives extraordinary wine as the soil enables low, high calibre yields. The climate in the region of Limoux is both Mediterranean and Oceanic, which brings a balance between the region's hot days and cool breezes.
The estate produces fabulous Blanquette de Limoux and Crémant de Limoux. The wine from these appellations has to lay on slats for 9 months and 12 months respectively, before disgorging and adding a unique liquor which defines with the base wine the Martinolles signature. For Domaine Martinolles, this rest time is extended to 12 months for the Blanquette and 24 months for the Crémant, giving complex, exquisitely rich wines.
The elegance of these wines are wonderfully enhanced by the fine dishes at Côté Mas, the high-end restaurant at Domaines Paul Mas where Rural Luxury comes to life. Indeed, in the Côté Mas restaurant, Chef Kevin Breugnot selects the best products in order to reveal all the aromas of our wines. We tend to illustrate our philosophy through the Experience Côté Mas. "The modern concept of luxury isn't simply about opulence," says Jean Claude Mas. "Luxury has been redefined: people now want authenticity and a real sense of place – this is the type of experience we must provide for our guests." Côté Mas provides this authentic experience where food and wine lovers can re-discover luxury.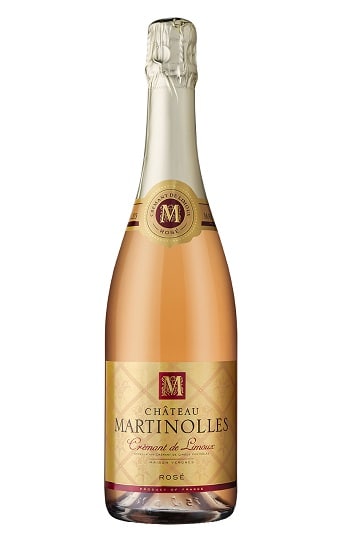 Crémant de Limoux Rosé has a superb pink colour with delicate persistent bubbles. A pleasant nose mingling flowers and fruits such as apricot or peach. On the palate appears a delicious fizzy taste with hints of grapefruit and blood orange. We suggest a lovely pairing food pairing with…
Mr Urban's Farandole of vegetables
Seasonal vegetable salad, grandmas' kitchen style chicken vinaigrette, quenelle of French caviar, whole-grain mustard ice-cream.
Tuna Toast
Fine slice of tuna marinated in our estate olive oil and lemon on a bed of foie gras and crisp bread.

Tuna Tataki
Marinated in herb oil, fresh salad or seasonal vegetables.

Ham toast
Goat's cheese mousse, basil, Bigorre black ham.
Chateau Martinolles, Blanquette de Limoux Blanc de Blancs offers a nice bright yellow colour, with gold tints, fine and numerous bubbles. It is an intense wine with notes of both fruit and flower aromas. It gives a nose of peach and white flowers. A balanced and fresh wine on the palate.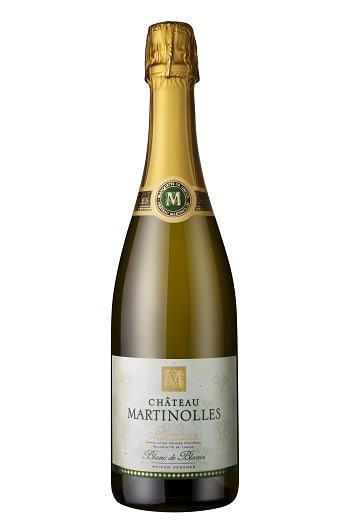 Suggested food pairings:
Oysters 3 ways
Tempura
Garlic butter gratin
Asian-style tartare: soy sauce, shallots, honey, fish sauce.
Choco-raspberry Napoleon
Nut dacquoise, chocolate ganache, Dacquoise aux noisettes, ganache chocolate, chocolate slate, raspberry coulis and fruits of the forest.