Here are my top two sparkling wines paired with two great British cheeses.
La Jara, Frizzante Rosé NV, Veneto, Italy
An amazing semi-sparkling rosé from Prosecco producer La Jara, they use a little bit of the red grape, Raboso, to give the wine it's lovely pale coral colour. It is dry on the palate and bursting with fresh summer fruits such as strawberry and raspberry with a hint of pink grapefruit. I think the packaging is great and it's the first sparkling wine I've ever opened with a corkscrew. I always have a bottle in the fridge over the summer months as it goes great with almost anything.
Paired with
Red Storm – Snowdonia Cheese Company
Sweet and surprisingly complex flavour, a vintage red with a crystalline nutty texture throughout.
A recent addition to the range, and smartly dressed in vivid red wax, Red Storm boasts serious vintage credentials, aged for typically 18 months creating an intense flavour and refined texture. Red Storm has already made a name for itself, winning a Bronze at the Bakewell Show.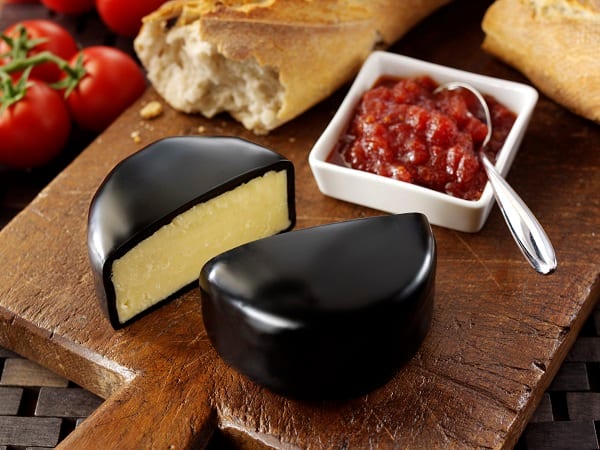 Cavicchioli Lambrusco Secco NV, Emilia-Romagna, Italy
This lightly sparkling red wine is made from the grape variety Lambrusco in Italy. It says 'Secco' on the label which means that the wine is dry. It's a refreshing wine with red fruit flavours of strawberry and redcurrant. If you prefer your wines to be light and refreshing and you don't really like wine to be too high in alcohol this is a great bottle of fizz.
Paired with
Black bomber – Snowdonia Cheese Company
Creamy & smooth extra mature Cheddar loved for its depth of flavour.
Where Cheddars are concerned, the multi-award winning Little Black Bomber is a modern classic. The flagship cheese marries a delicious rich flavour with a smooth creaminess, lasting long on the palate but remaining demandingly moreish!
Has won awards at The Great British Cheese Awards, Nantwich International Cheese Awards and the World Cheese Awards.
So the next time you decide to have the cheese board at the end of a meal don't go straight for the Port, try a sparkling wine instead. Not only do they match very well, but also it's nice to drink something light and refreshing at the end of the night. If you haven't tried a sparkling red wine before I would really recommend doing so. It's not found on many wine lists so look out as more and more producers are making this amazing sparkling wine.