Best Sparkling Wine and Fruit Pairings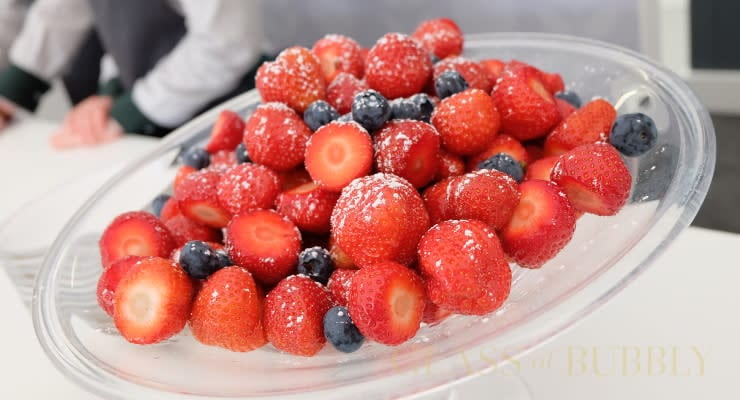 Summer is just around the corner and it is time to break out the sparkling wines and lawn chairs. Sparkling wines are not just for New Year's or special occasions anymore. They are a perfect aperitif or a light dessert when paired with fruit.
Here are our favorite types of sparkling wines and fruit pairings.
Melons
Honeydew, cantaloupe, and watermelon…oh my! Can wine be paired with watermelon? Yes!
Wine:
Classic, dry Champagne. The juiciness and meatiness of the melons will help to offset the dryness of the Champagne.
How to Serve:
Be sure to pick out very ripe melons. This can make the difference between the wine pairing well or not. Slice the melons and place around a serving platter. Scatter berries throughout the dish to add some color and variety.
Berries
For those looking for a colorful and sweet concoction, berries and a rosé sparkling wine will do the trick.
Wine:
A dry sparkling rosé. To be more specific, a rosé made from Rhone varietals (Syrah or Mourvedre) would be best. They are tart and dry, which will complement the sweetness of the berries.
How to Serve:
Place a strawberry on the rim of the glass. Serve with a bowl of fresh raspberries, blueberries, blackberries, and strawberries. Top with a mint sprig.
Citrus
Pairing citrus fruits like grapefruit and oranges are perfect for those who enjoy sweet sparkling wines. This is a perfect addition to a Sunday brunch.
Wine:
Off-dry or sweet sparkling wine. A California or Washington off-dry or sparkling wine will be your best option. They are easier to find and quite flavorful.
How do you know which wines or varietals are dry, off-dry, or sweet? This wine chart will help you distinguish how common varietals are made.
How to Serve:
For a post-brunch treat, serve palate cleansing oranges and grapefruits with a sweet sparkling wine.
Stonefruit
We can't forget about apricots and peaches. Super juicy and sweet, these stone fruits are best paired with a dry wine.
Wine:
Pair with a dry Prosecco. Most Proseccos are made dry and it is easy to find delicious and affordable ones in any wine shop.
How to Serve:
Top a bowl of peaches or apricots with whip cream or ice cream.
Tree Fruits
Fruits such as apples, cherries, and pairs are a bit more mild than other fruits but also seem to be more versatile. This is a great opportunity to make fruit infused sparkling wine.
Wine:
An affordable bulk sparkling wine is a great option for serving with tree fruits. Prosecco or California sparkling wines are often found in Magnum bottles in any wine shop.
How to Serve:
Slice up apples and pears, destem cherries. Put in the bottle of a large bowl or juice container. Pour in sparkling wine and chill in the fridge for a couple of hours.
The sparkling wine will now be infused with the fruit juices.
This is a great drink to serve large amounts of guests and have on a hot day.
What are your favorite summer sparkling wine concoctions?
Glass of Bubbly Content
Content shared by this account is either news shared free by third parties or sponsored (paid for) content from third parties. Please be advised that links to third party websites are not endorsed by Glass of Bubbly Ltd - Please do your own research before committing to any third party business promoted on our website.