"Really Delicious!" said Barack Obama about the Ferrari Trentodoc served during the gala dinner hosted on May 8th in Milan by the Obama Foundation, in the glamorous rooms of Palazzo Clerici.
The former US president set the stage of its first public appearance abroad after the end of his term in Milan, welcoming the invitation to be the honorary guest of Seeds & Chips – The Global Food Innovation Summit. On this occasion, Barack Obama discussed in front of more than 4,000 people with his chef and food consultant Sam Kass on the importance of tackling climate change, following a healthy nutrition, and fighting food waste on May 9th.
Matteo and Camilla Lunelli of Ferrari Trento had the privilege of a one-to-one meeting with Obama, who reaffirmed his appreciation for Ferrari that he had already tasted during the G8 summit held in L'Aquila in 2009. This time though, the context of the meeting was entirely different, with a special focus on quality food and wine.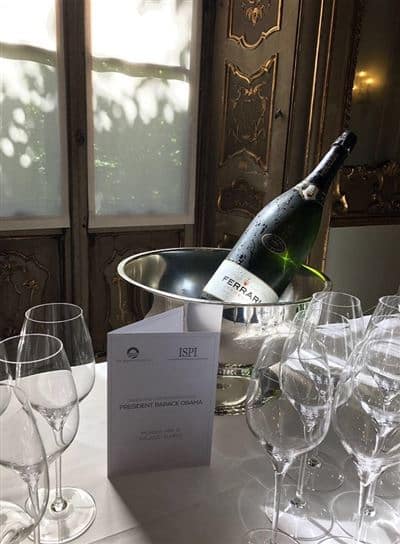 Obama's presence in Milan was part of Milano Food City, a series of initiatives, comprising Seeds & Chips, that Ferrari Trento joined in order to revive the momentum for the topics listed in the Charter of Milan, an official document that involves citizens and institutions alike and represents the true cultural heritage of Expo Milan 2015.
The commitment of Ferrari Trento once again proves the deep interest of the winery towards sustainability, which has led it to its certifying all of its vineyards as organically grown.