Austrian Sparkling Sensations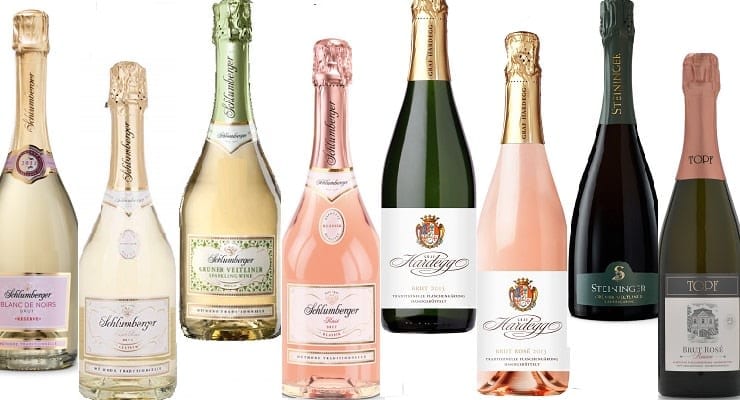 The pretty alpine villages of Austria, plus the beautiful architecture of town and city buildings are constantly admired by numerous visitors from worldwide origins. Lakes, mountains, glaciers and stunning landscapes attract many, too, as well as the history of Austria. The cuisine of Austria has become well known and appreciated, along with very impressive high quality wines the country has to offer, a great number of which are (multi) award-winning productions.
Austria grows 40 grape varieties (26 white, 14 red) that are officially approved for the production of their quality wines. International varieties include Chardonnay, Riesling, Pinot Blanc, Pinot Noir, Merlot and Cabernet, amongst numerous others. Austrian grape varieties include the much acclaimed Grüner Veltliner, which is now being planted, increasingly, in other countries.
The 'Quality Pyramid' of Austria's Sparkling wines has differing requirements, that are set out in a strict set of regulations, for each level, including varying maturation periods, ranging from 9 months to 30 months. Klassik, Reserve and Grosse (Grande) Reserve all have sparkling productions that are very popular indeed, with the latter two quality levels being known for their impressiveness, structure, elegance, bouquet, mouthfeel and palate sensation, particularly. A lot of cuisine enjoyment is enhanced by pairing with sparkling wines. Seafood, fish dishes and white meats, including poultry, plus pasta and rice, all have a great accompaniment and partnership with the 'sparklers' and their wonderful perlages.
Schlumberger has a network of cellars that hold many barrels and bottles of sparkling wines. Robert Alwin Schlumberger had productions in 1842 and very soon after the wines were presented and served at the Imperial Court. Klassik Brut, Chardonnay Jahrgang Brut Reserve and Blanc De Noirs Brut Reserve will not disappoint. Refreshing, intense, fresh and fruity is how I would describe these productions.www.schlumberger.at
Steininger has fabulous wines, too. Grüner Veltliner Steinhaus (Stone house) shows the character of this wine, which is derived from the soils. A superb example.www.weingut-steininger.at
Glass of Bubbly
Executive editor of news content for the website Please enjoy the articles that we share - We hope you find our love for Champagne & Sparkling Wines both interesting and educational.